New York City is world-renowned for a multitude of reasons. It offers some of the best restaurants, theater productions, and nightlife attractions in the world. People come from around the world to visit New York City and interact with its vibrant culture.
But one thing that comes as a surprise to people is the staggering amount of street art that inhabits various spaces across the city.
The popularity of street art originated in the 1970s in the Bronx, a borough of NYC. The graffiti/street art movement quickly evolved and became ingrained in the culture of the city. Each piece of street art is representative of an aspect of the culture of their respective neighborhoods. Iconic artists like Banksy and Keith Haring contributed pieces across the city which largely added to the notoriety of the art form.
Today you can walk down any given street in the city and encounter a variety of street art from small graffiti tags to massive murals. We have compiled a list of the top 10 + 5Pointz street art spots in New York City, read on to see what made the cut.
The art at 2 World Trade Center is located on two large corrugated metal sheds that stand at the base of where the South Tower used to stand before 9/11. The massive sheds are covered in bright colors and whimsical characters.
Brooklyn-based artist StickyMonger is a primary contributor to the project, though many other artists are involved. The murals change somewhat regularly so there is constantly something new to check out. Though the site of 9/11 is a solemn one, these murals bear a message for a brighter future.
Nestled in a park in Harlem, on a handball court is one of the most iconic pieces of street art in NYC. The "Crack is Wack" mural was created by Keith Haring in 1986 and features his signature style of thick black outlines, bright colors, and cartoon-like bodies and bears a very clear anti-drug message.
This mural was made as a response to a time where drug use was running rampant in the surrounding communities. This mural stands out against the setting of a public park and has become a popular attraction to visit.
The 100 Gates Project was started in 2014 by Billy Rohan, a Lower East Side native. His goal was community beautification through creating murals on roll-down security gates on storefronts. The project started small, the original goal was to create 100 murals on the gates, hence the name.
As of today, there are 100 murals in the Lower East Side and over 200 murals done citywide, across neighborhoods and boroughs.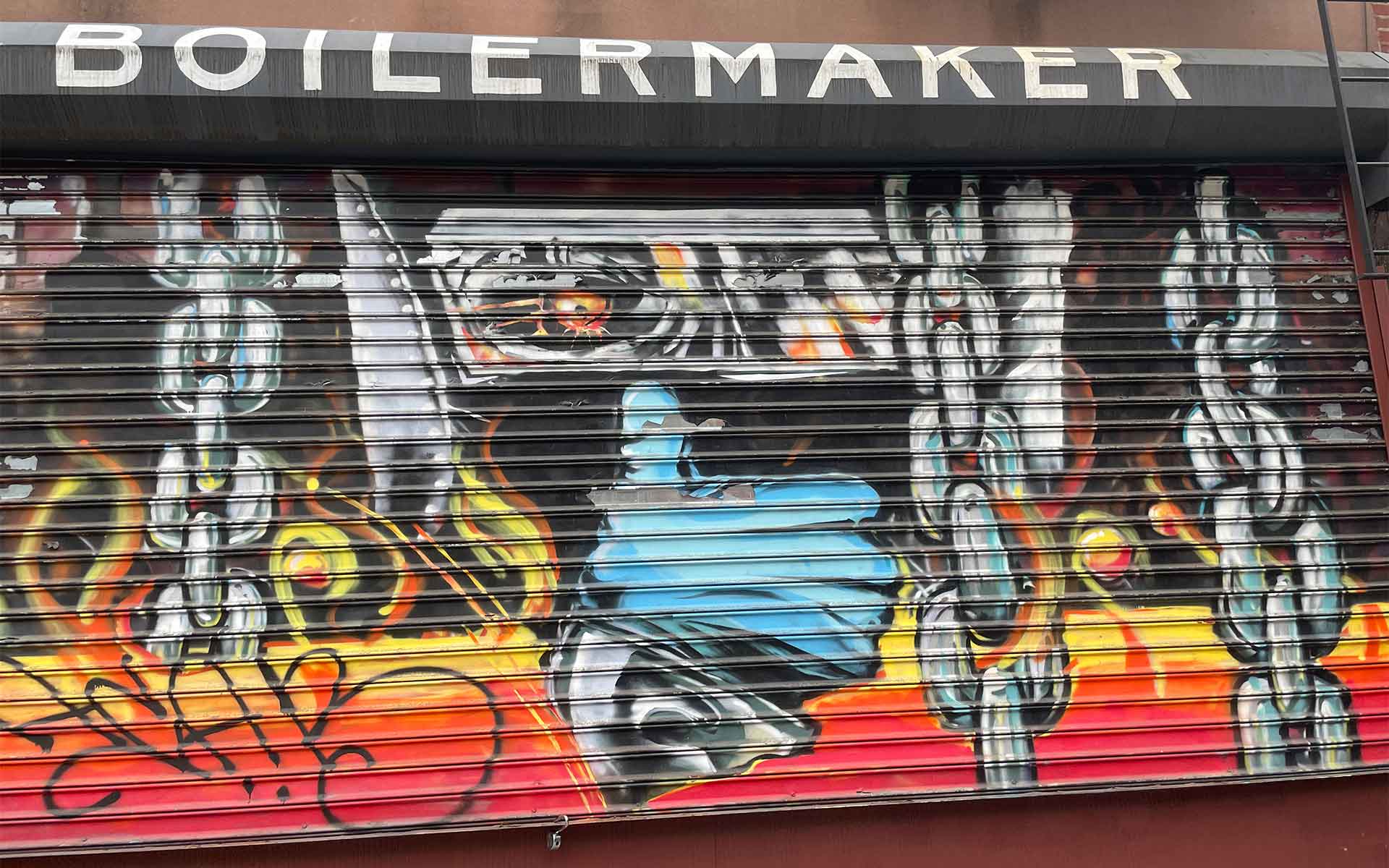 The Bowery Graffiti Wall is a large wall prominently featured on Houston street. The wall was originally painted by Keith Haring as a gift to the community in the 1970s. The owners of the wall thought it was important to maintain the beauty of the wall for the benefit of the community and thus have commissioned many artists to create murals that are featured on the wall for a period of time.
The current mural was beautifully created and depicts a complex scene of work however it was unfortunately defaced with random graffiti tags.
The East Village of New York City is seen as one of the birthplaces of graffiti and street art culture. This culture has been kept alive today by many different artists, some anonymous, some commissioned. This type of street art is more raw and edgy than a commissioned mural. The style is associated with the traditional imagery that comes to mind when one thinks of graffiti.
There is a ton of variety to be seen in East Village graffiti, from simple tags to quotes, to abstract art and the scenery constantly changes.
The Hudson Square Canvas is a collection of street art all on Varick St and features the works of several local artists. The project partners with businesses in the area by donating building facade space and painting supplies. One of the notable projects is a large abstract mural at 131 Varick done by artist Hellbent that features bright colors and intersecting wallpaper-like patterns.
The other major piece, located at 161 Varick, was created by Katie Merz. This piece is interesting to look at because Merz's style incorporates pictograph and hieroglyphic style art that is reflective of the culture of the neighborhood.
Freeman Alley is one of New York City's hidden gems. It is an alleyway that is off of Rivington street in Bowery and if you didn't know of its existence, you'd likely walk right past it. And that is part of the beauty of this location. The alleyway has become a refuge to hundreds of street art pieces. When you are in this alley you can't help but feel particularly connected to the city.
There the raw untouched energy of the space feels so authentically New York.
First Street Green Art Park
The First Street Green Art Park opened in 2008 in the Lower East Side. With permission from the city, members of the community transformed an abandoned building lot into an open art space and community garden. This park is home to a multitude of activities and art forms, there are performances, dancers, singers, and artists.
The community garden and murals are all contributed to by volunteers in the neighborhood. The Green Art Park offers a lovely haven to stop and appreciate nature and art that's just off the hustle and bustle of the street.
The LISA Project began in 2013 with the primary objective of bringing art to all people in New York City. From the onset their goals were to "make ugly into clean and lovely", raise awareness about issues in the community, and provide art supplies and volunteer opportunities to the most economically challenged children in the five boroughs.
Today the Project has an international reach and has created numerous murals all over New York City.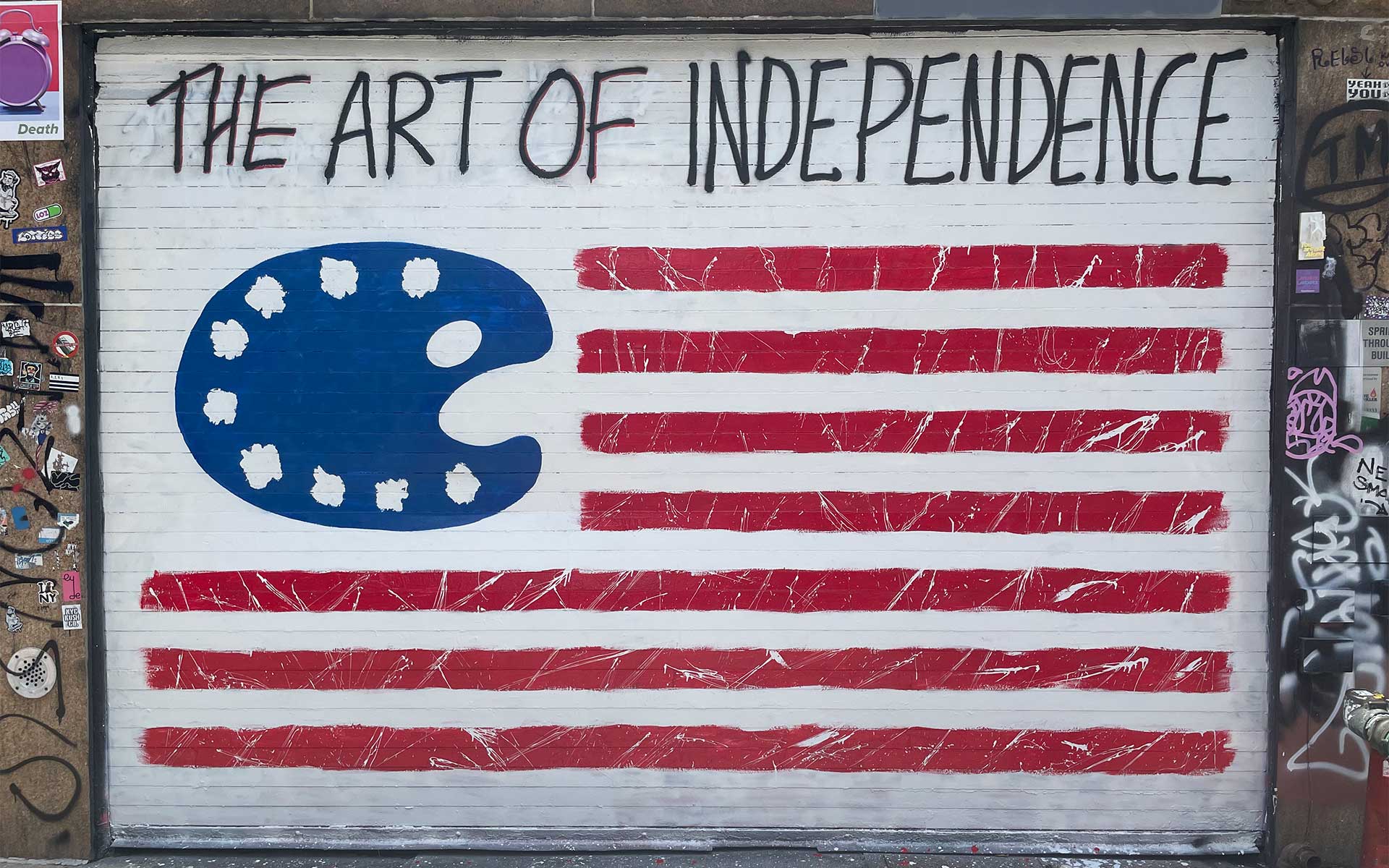 Another Lower East Side art collective, the New Allen was started by two restaurateurs, Franco Noriega and Milan Kelez. They believed that art can inspire conversation. And thus The New Allen became a passion project to beautify the Lower East Side Neighborhood on Allen Street between Delancey and Houston. But now the murals have spread beyond just Allen Street.
The murals are done by a large number of different artists with very unique perspectives.
5Pointz is the only item on this list that actually no longer exists in recognizable form. Located in Long Island City, Queens, 5Pointz was an American mural space that was world-renowned. It was originally built as a water meter factory in 1892 but was later purchased by Jerry Wolkoff in 1970. Wolkoff turned the space into artist studios and the building began to get covered with graffiti.
Eventually, the space became very popular for artists from all over to do a piece there. The place became colloquially referred to as 5Pointz because the project was influenced by artists from all 5 boroughs of New York City.
Unfortunately in 2013, Wolkoff decided he wanted to demo the building and put up apartment buildings. Even though this was met with outrage and protest from the community, there was nothing they could do to stop the demolition from moving forward. And by 2014 5Pointz was demolished completely.
That concludes our list of the best hotspots for street art in New York City. We hope you found this informative and have perhaps inspired you to take a street art tour of your own when you visit NYC. Living Proof Creative is a creative marketing agency that seeks to provide robust solutions to a broad range of design needs. We encourage you to contact us with any questions or design inquiries.