TKV is a Serbian street artist who made a long way from being a 16-year-old anonymous girl keen on disguising her identity to becoming an established artist. During the past decade and a half, her work was featured in countless exhibitions throughout Europe and in books such as Woman Street Artists: The Complete Guide and Street Art Belgrade.
TKV is also a proud owner of the title of the Knight of Arts and Literature by the Republic of France (Chevalier de l'Ordre des Arts et des Lettres) and has been granted the UN Women's Agent of Change award. Today, TKV (short for The Queen of Fairies) is using her titles and experience to lift those around her. We talked to her about things that inspire her, commercial collaborations she enjoys, and about how it feels to be a girl in the boy's club.
[ultimate_spacer height="10″ height_on_tabs_portrait="50″ height_on_mob="50″]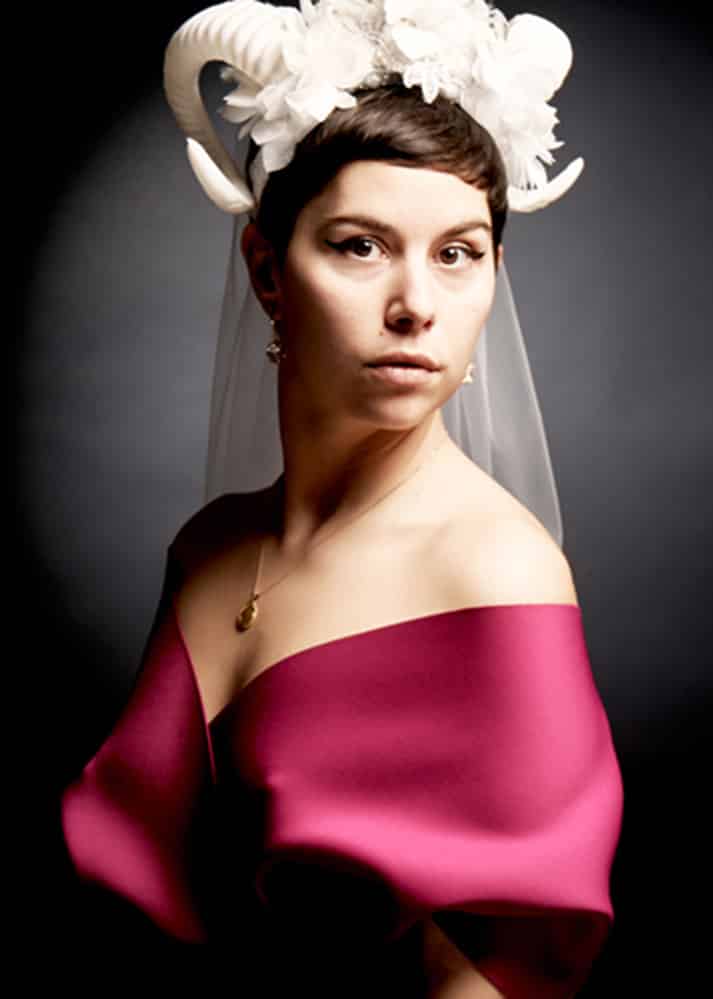 Living Proof Creative: What was the first graffiti you did? What was the last one?
TKV: It was a portrait of Amelie Poulain in Rome when I was 16. You know, a typical teenage coming of age moment (laughs). The last one was a graffiti of a girl hugging a lamb, which belongs to the 'Affection' series in which I explore acceptance.
At first glance, the hug seems simple and familiar but invites the audience to hug and accept unusual things. Was it Log Lady in Twin Peaks who suggested that things are not what they seem (laughs)? Normal is not what it seems to be.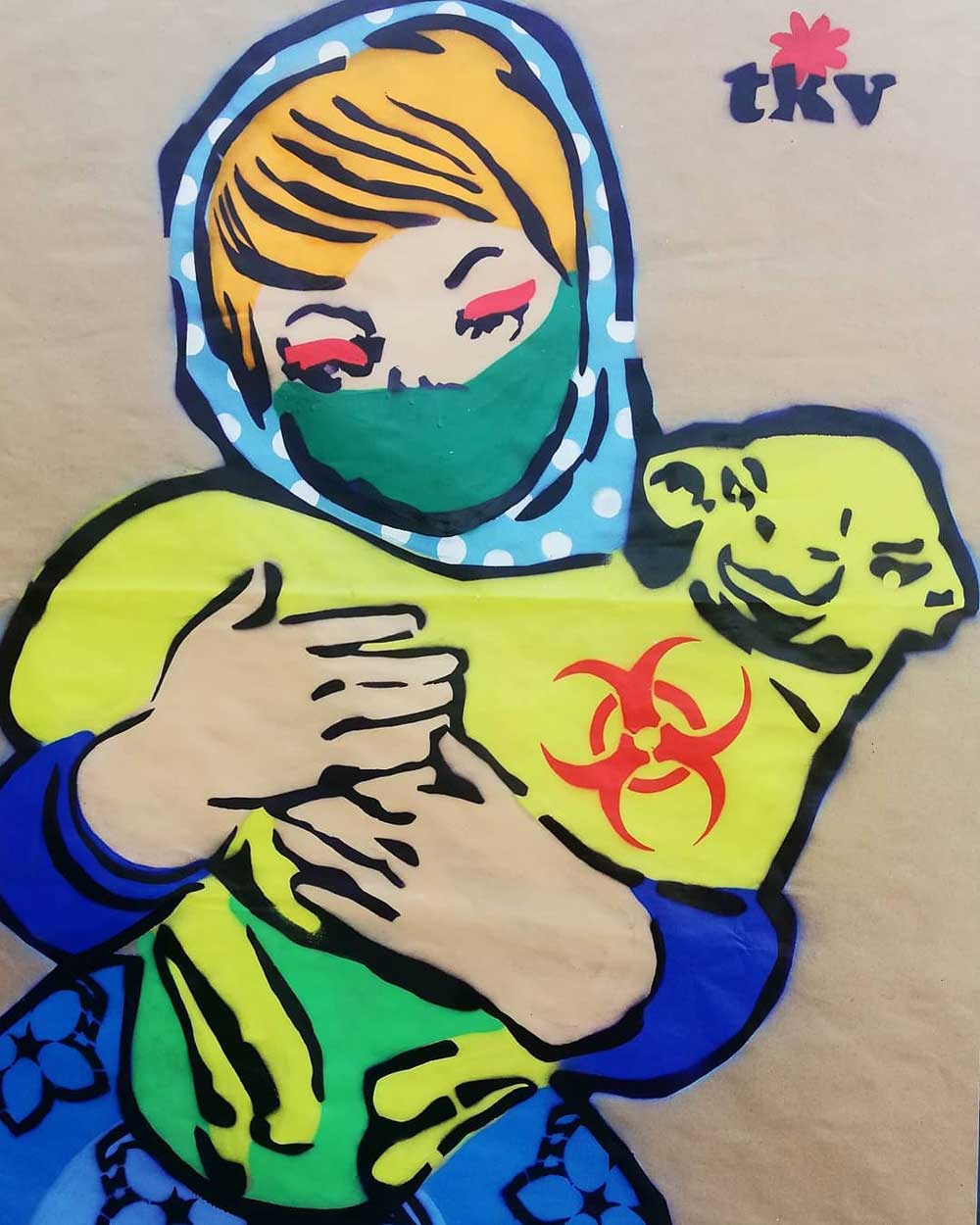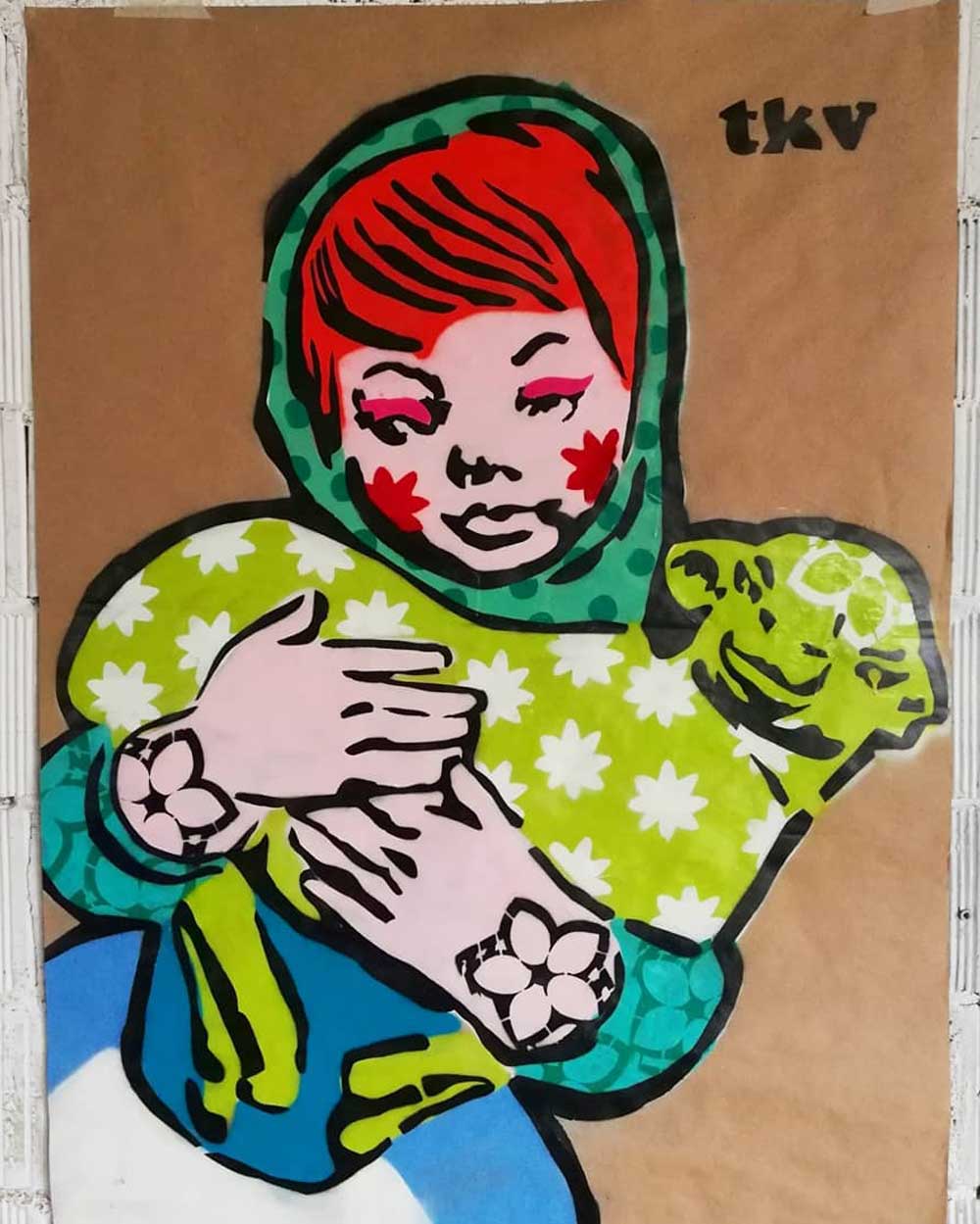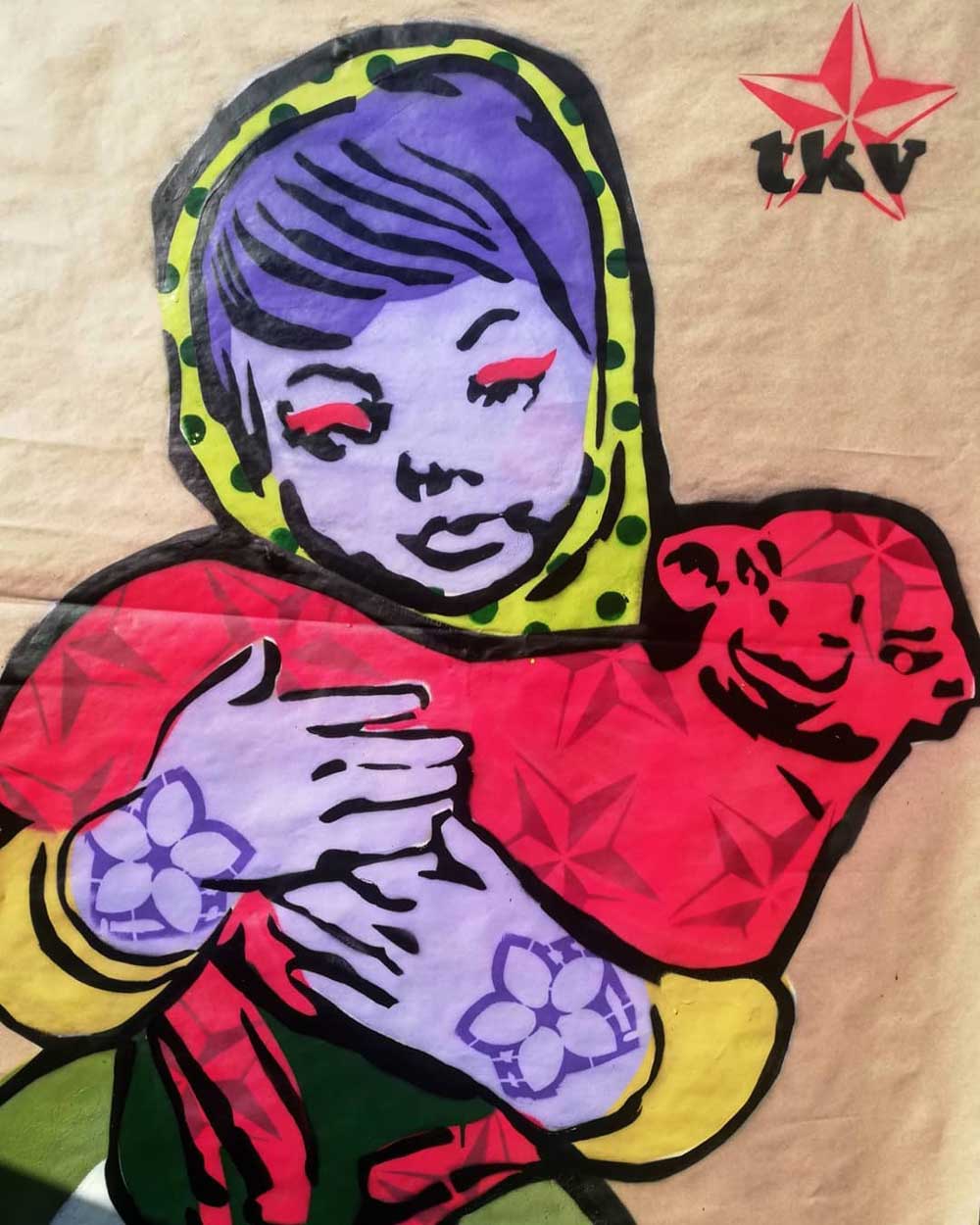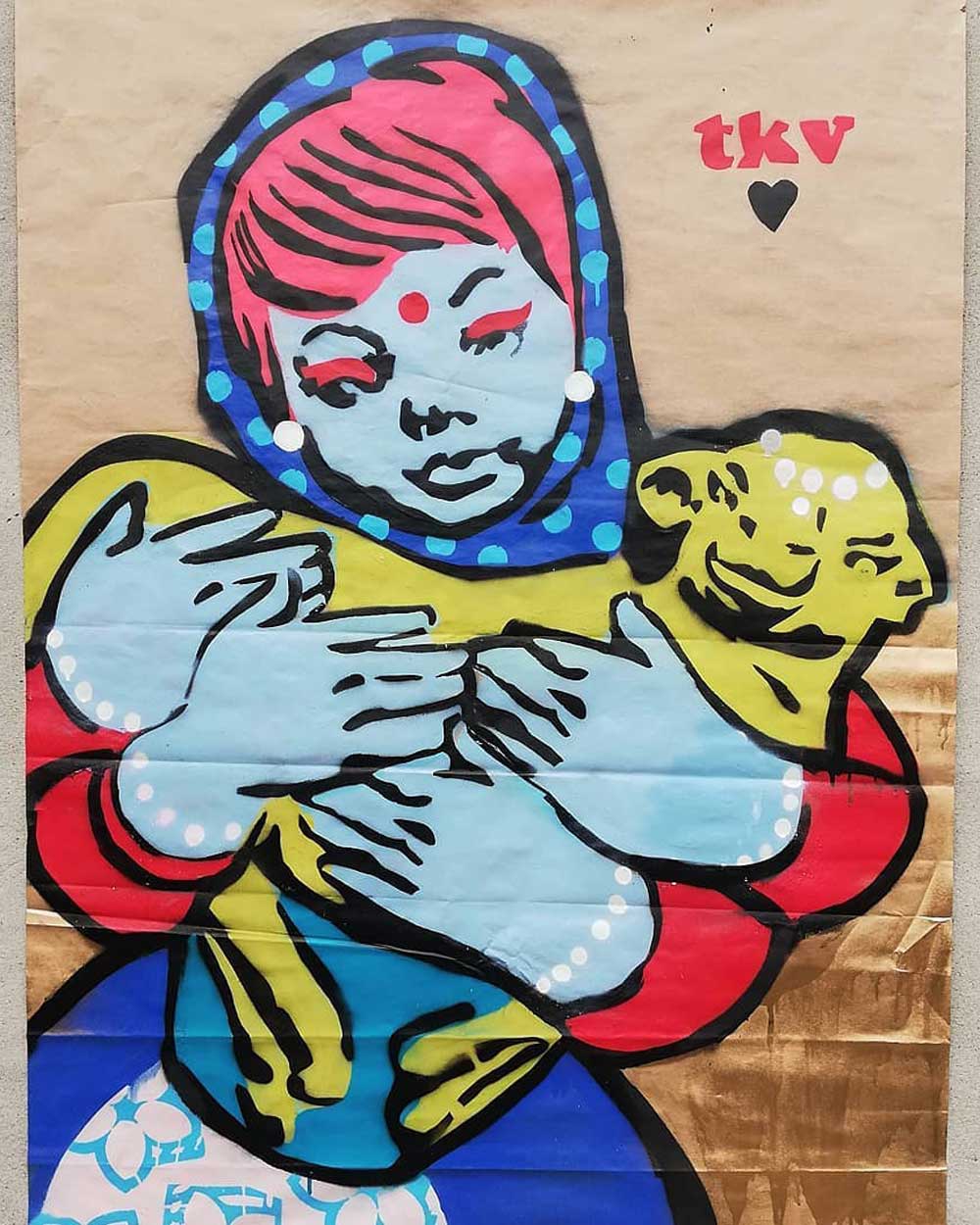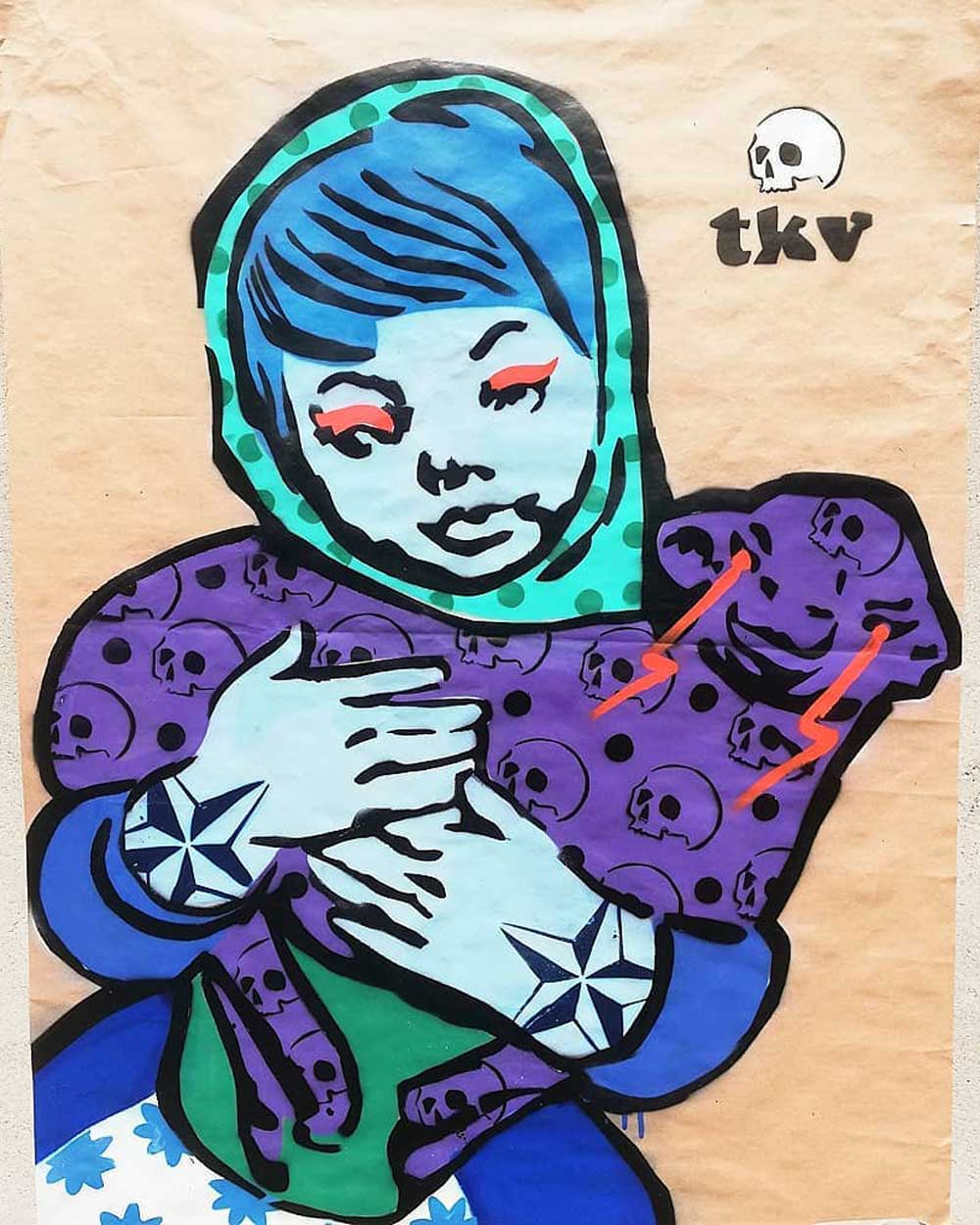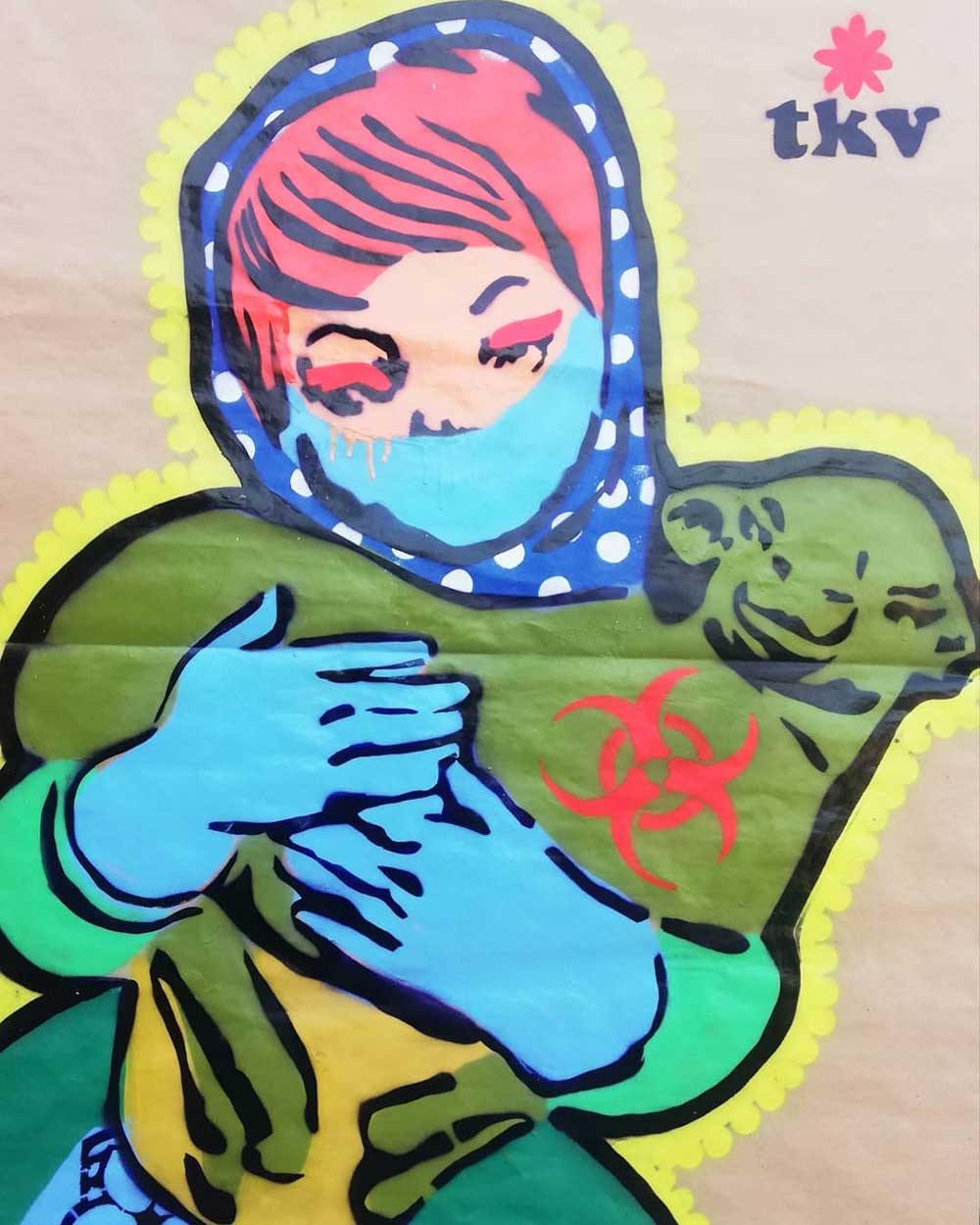 Living Proof Creative: What have you been up to lately? What are you especially invested in right now?
TKV: Because of the pandemic I turned to something that's important for the community: I made a community garden in the building I live in. The building has a common garden area that's been neglected for years if not decades, so I wanted to create a space where everybody can feel safe and endure this shit.
I realized through this just how intimate my work is and that it doesn't necessarily have to be a critique of the current situation but something that will contribute to the values important to the community such as common growth, nurturing, and creation of pleasant spaces that will allow for this to happen. That will preserve the sense of wellbeing. Ever since we've been forced (and in Serbia, we've been forced in a true sense of that word) to shelter in place, I've been haunted by Louise Bourgeois' statement that art is the guarantee of sanity.
It's what I've done instead of preparing exhibitions for Amsterdam (Spaklers Gallery) and Paris (Galerie Lithium) that were scheduled for April and July this year, respectively. I had a steep learning curve with a lot of self-reflection and have managed to channel my energy where I feel it needed to be channeled – which is great because it is challenging to create something new at times like these. This gave me a sense of purpose and has brought the community together! Every now and then I see my neighbors contributing to the garden and enjoying it even though we're not quarantined anymore.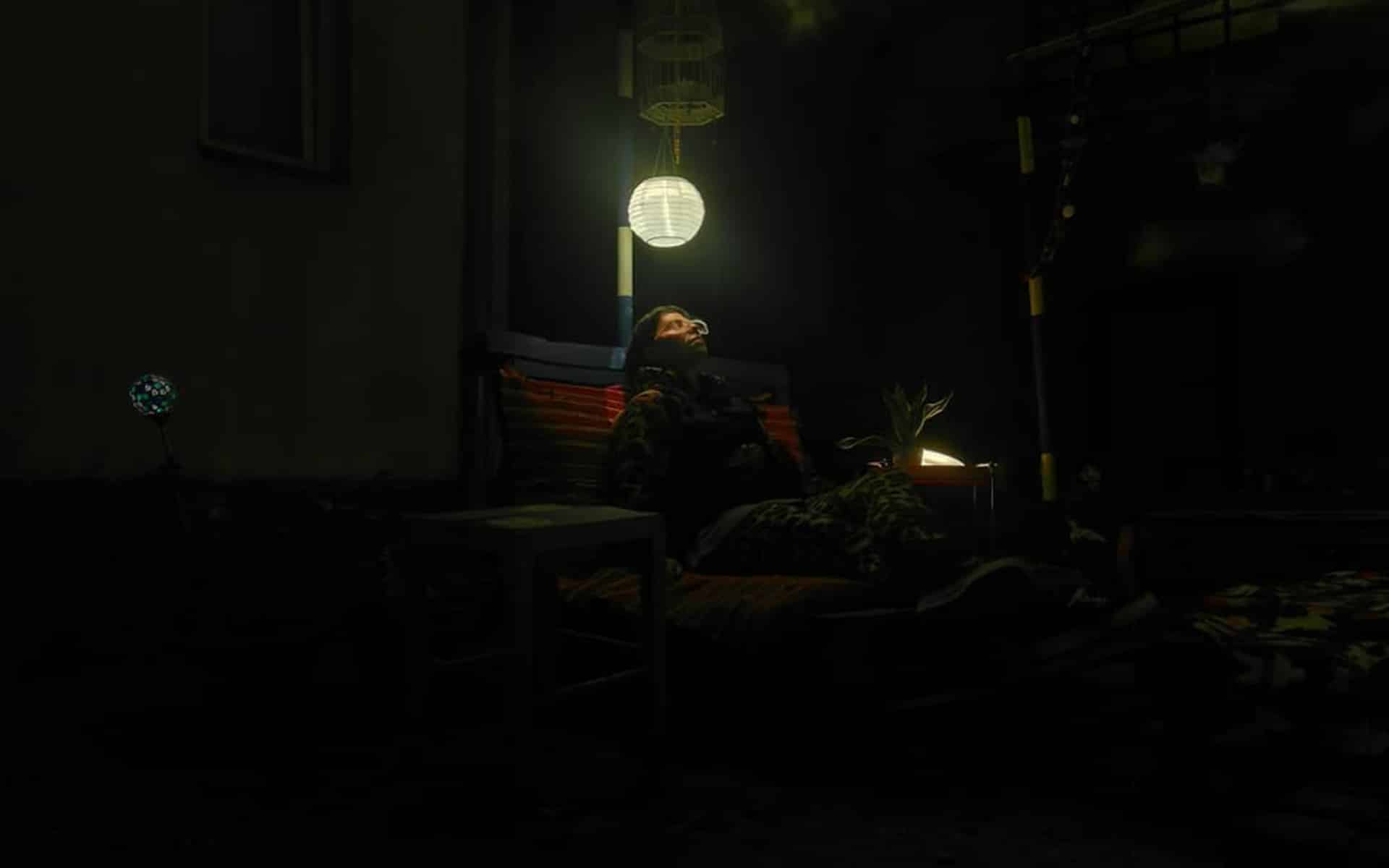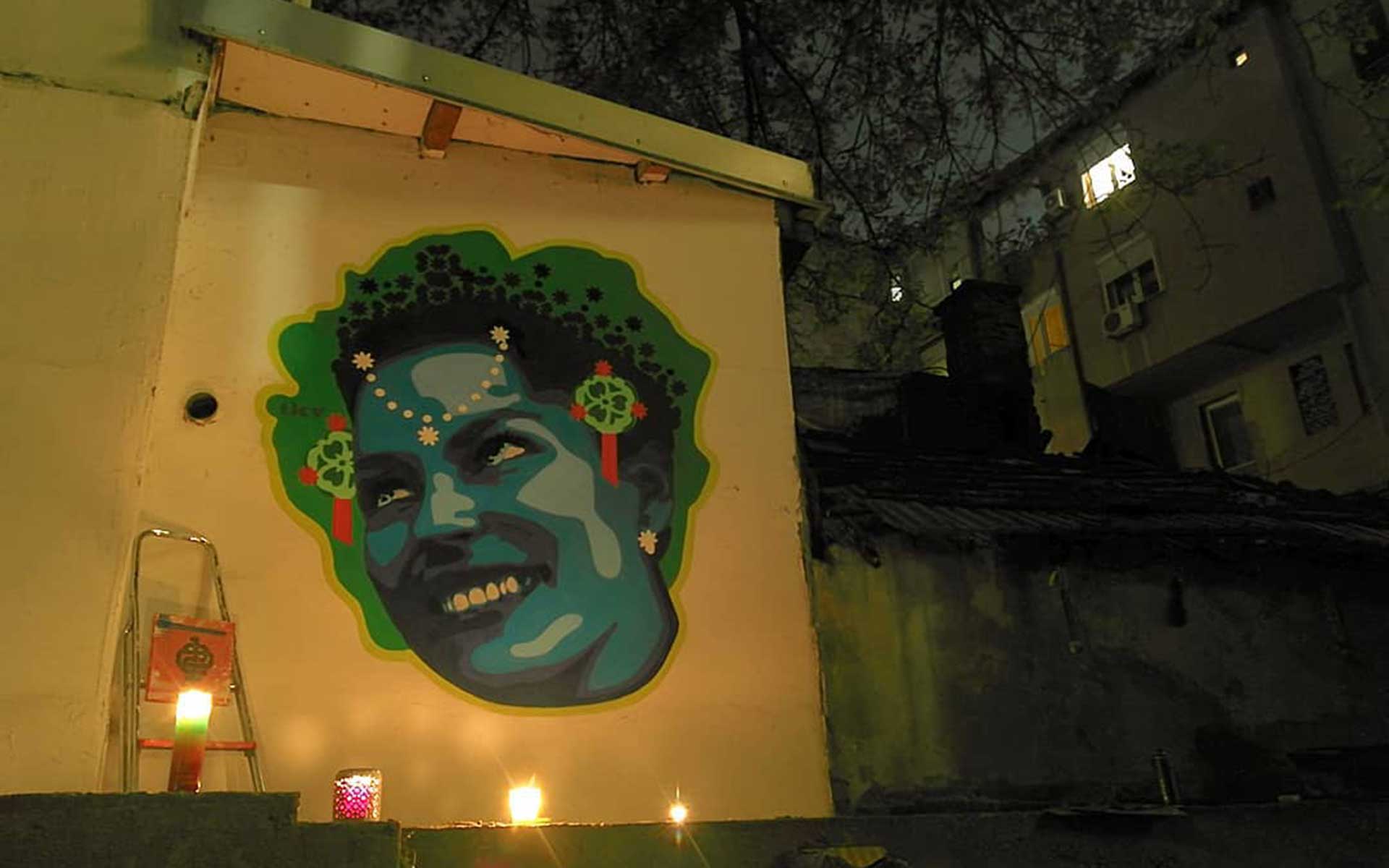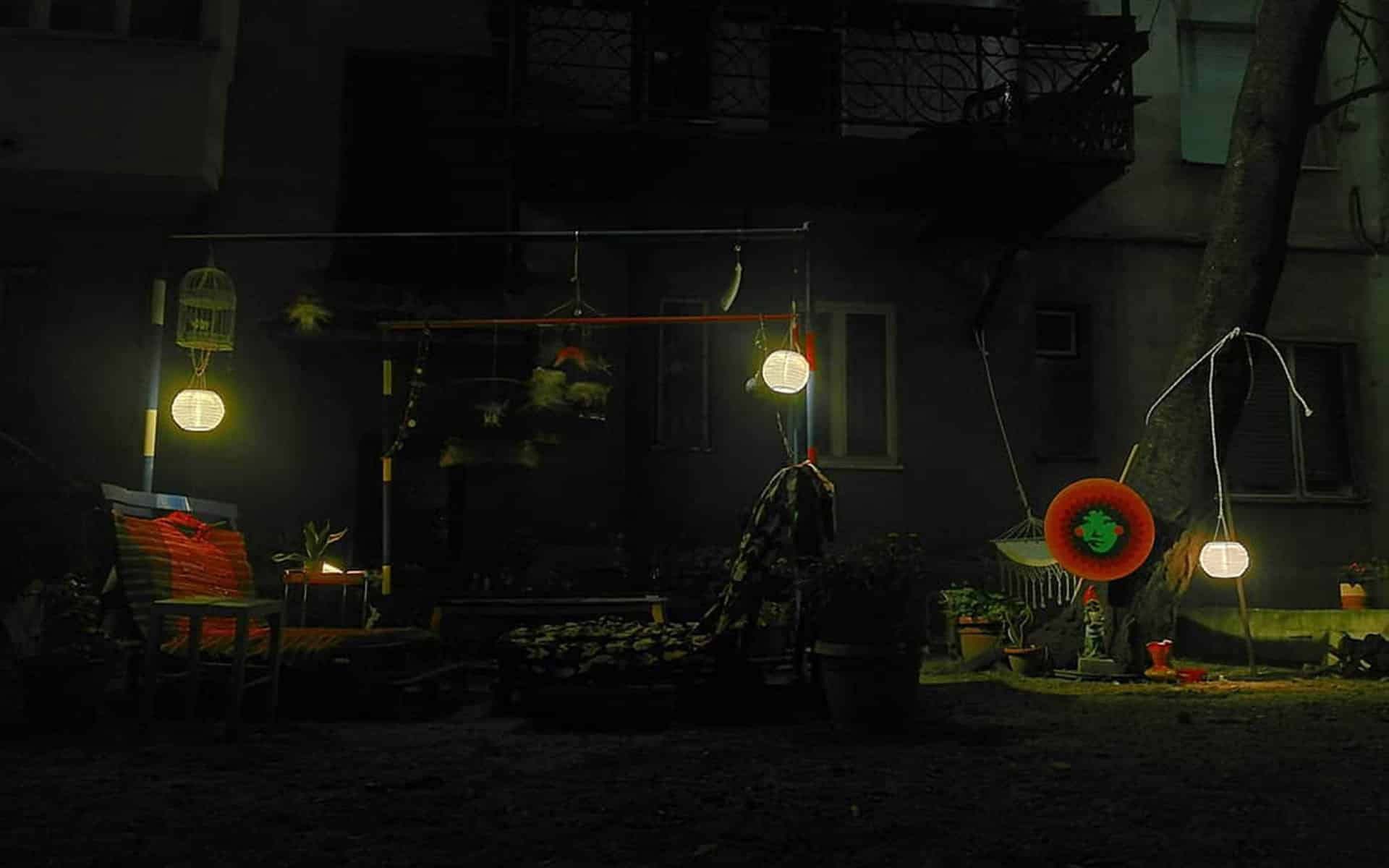 Living Proof Creative: You are one of very few artists living from their art in Serbia without a 9 to 5 job. How did you manage to get there?
TKV: By being persistent and sticking to my vision. All my attention is directed towards my practice, and it involves a lot of compromising and sacrifice. My first commissioned piece was a book cover illustration when I was 17. Jasmina Tešanović, Serbian feminist author asked me to design the covers for her book 'Nefertiti Was Here'.
It was a symbolic fee, but what came out of it greatly surpassed monetary value – I made a lifelong friendship with Jasmina and her husband Bruce Sterling. They later invited me to their Casa Jasmina in Torino where I designed part of the interior. It's a maker's hub where the community works with the internet of things and similar stuff.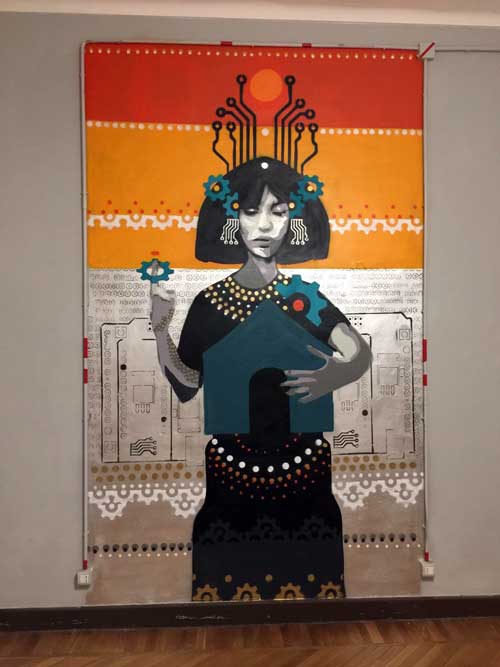 Living Proof Creative: You still manage to balance between leaving your mark in the streets and working on commissioned pieces. What kind of commercial projects and design collaborations do you enjoy doing?
TKV: Street art is applied art just like furniture, interior, or clothes design is. All pieces I create aim to become part of someone's everyday life and to have use-value. Commercial projects that I enjoyed working on are very diverse – from designing interiors of restaurants, cafes, clubs, and even pole dance studios in Barcelona and Belgrade, to collaborations with brands such as Hirotaka Jewellery in Tokyo (I was a model for their campaign back in 2018) and Swiss DJ/rap collective in Zurich.
In terms of street art, I'm part of a network of graffiti artists working together to unite Balkan through street art. Other fun creative collaborations include guerrilla marketing campaigns for Mini Moris, Adidas, Nike, the Faculty of Media and Communications, as well as interior design for Hotel Hyatt, Red Bull and Shyft (tech startup) offices, Dr. Oetker, and visual identity design for a poetry festival for 5 years in a row.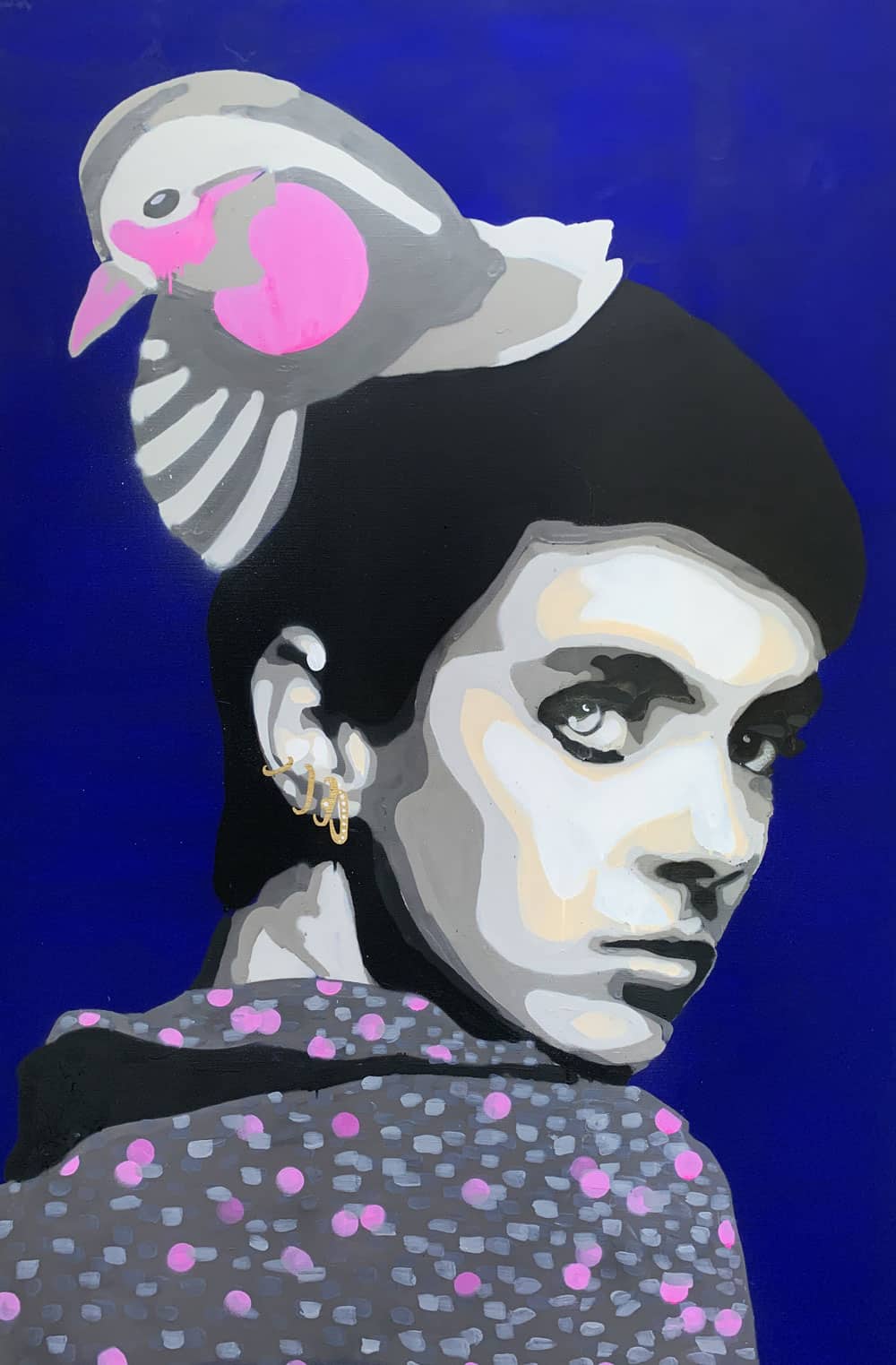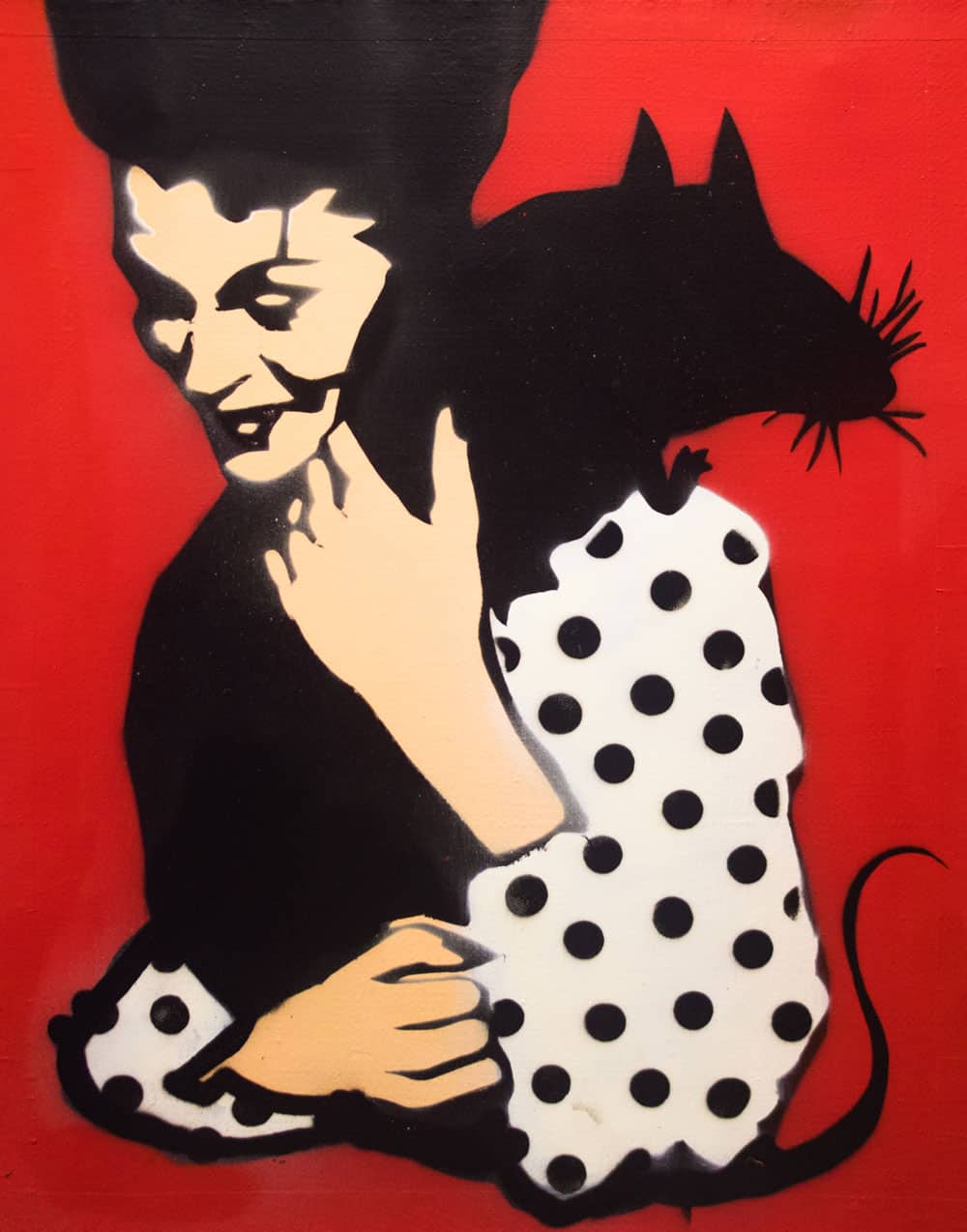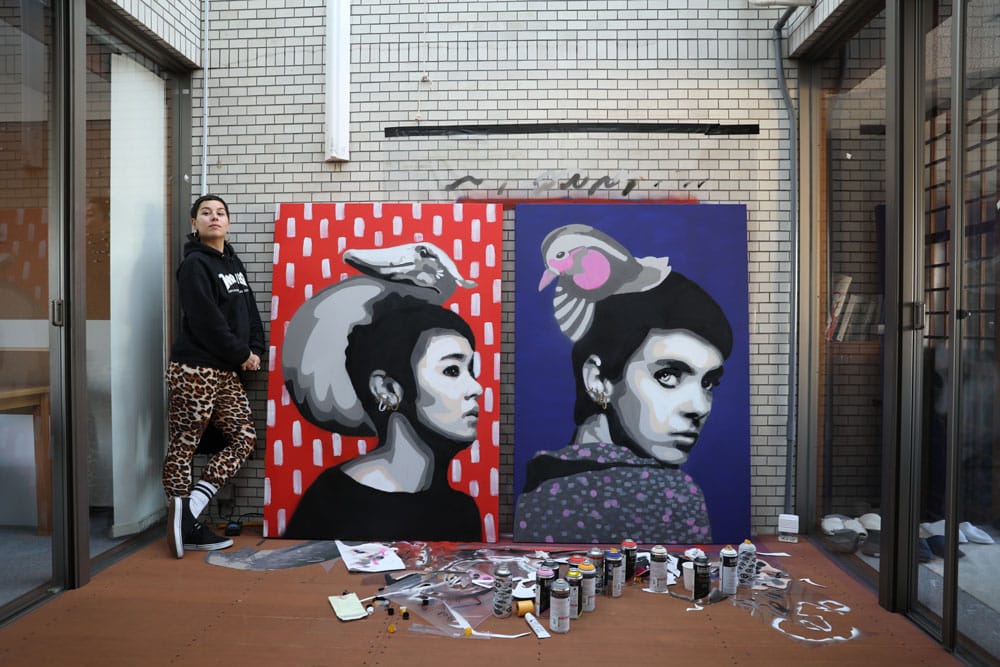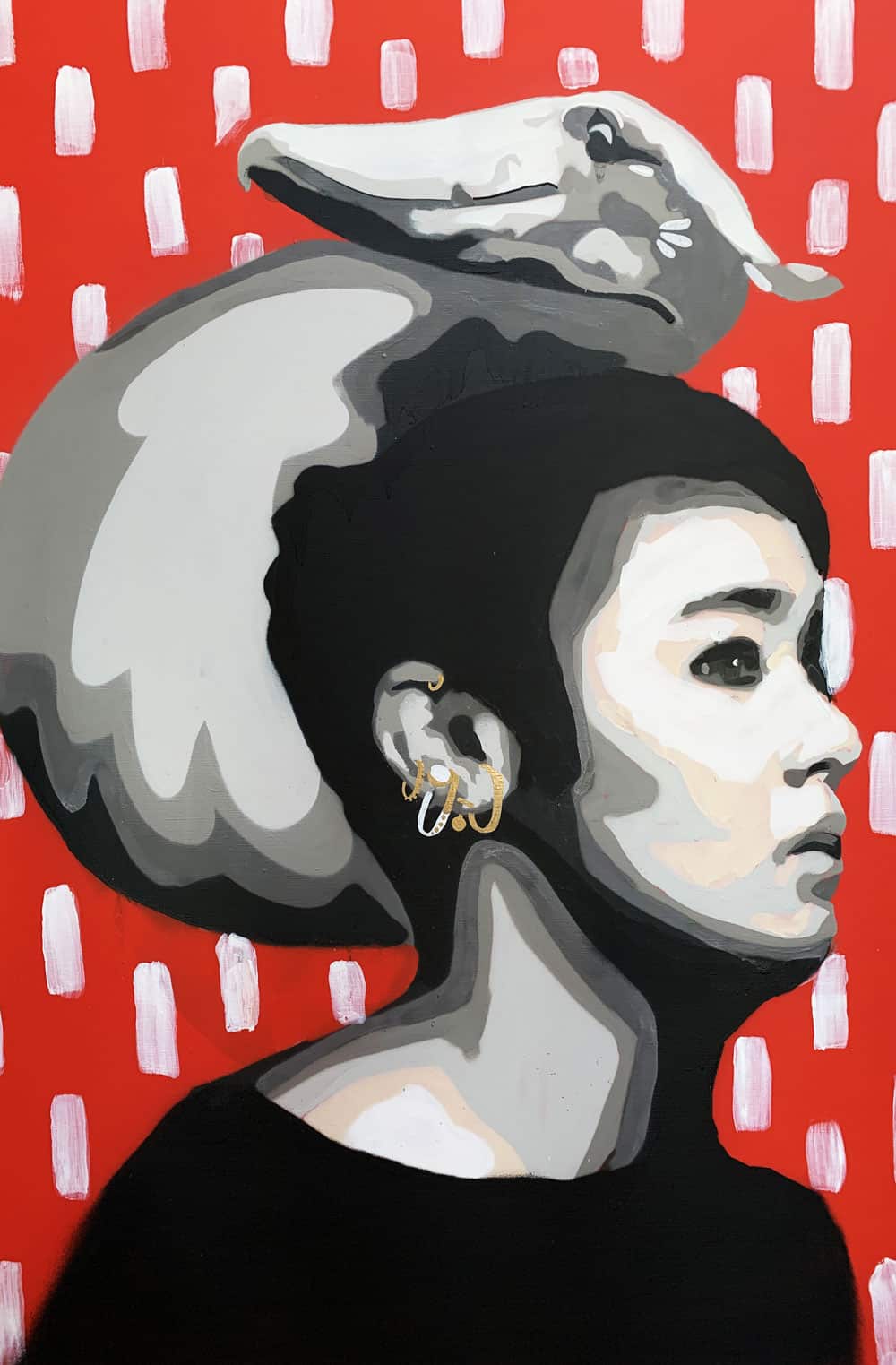 Living Proof Creative: How did you come up with an idea to design furniture?
TKV: I found a chair next to a trash container. I love working with stuff that other people see as garbage. Recycling still isn't part of our everyday life in Serbia and this raising consciousness about the environment is very important for me. Refurbishing a vintage chair is also street art, even if we have to bring it indoors. It is important for me to preserve the spirit of public space and to rethink how to best translate it within a gallery setting.
Living Proof Creative: How does it feel to be a girl in the boy's club?
TKV: Awesome (laughs). I learned how to claim space, retain the position, and maintain a kind of authority that's my own, that's not simply filling in men's shoes. I bring a different kind of experience that's very intimate and personal. I often feel a lot of pressure and the need to adjust my tone, but I rarely had unpleasant situations.
And, you know, I put a lot of work in trying not to be understood as some kind of a threat, but as a woman that does her job professionally and is great at what she does. It sucks that we have to walk on eggshells and be careful about our tone in order not to be misunderstood. Ambition is often seen as a flaw in women, even by the people close to us, and I simply don't want to apologize for being ambitious or for who I am.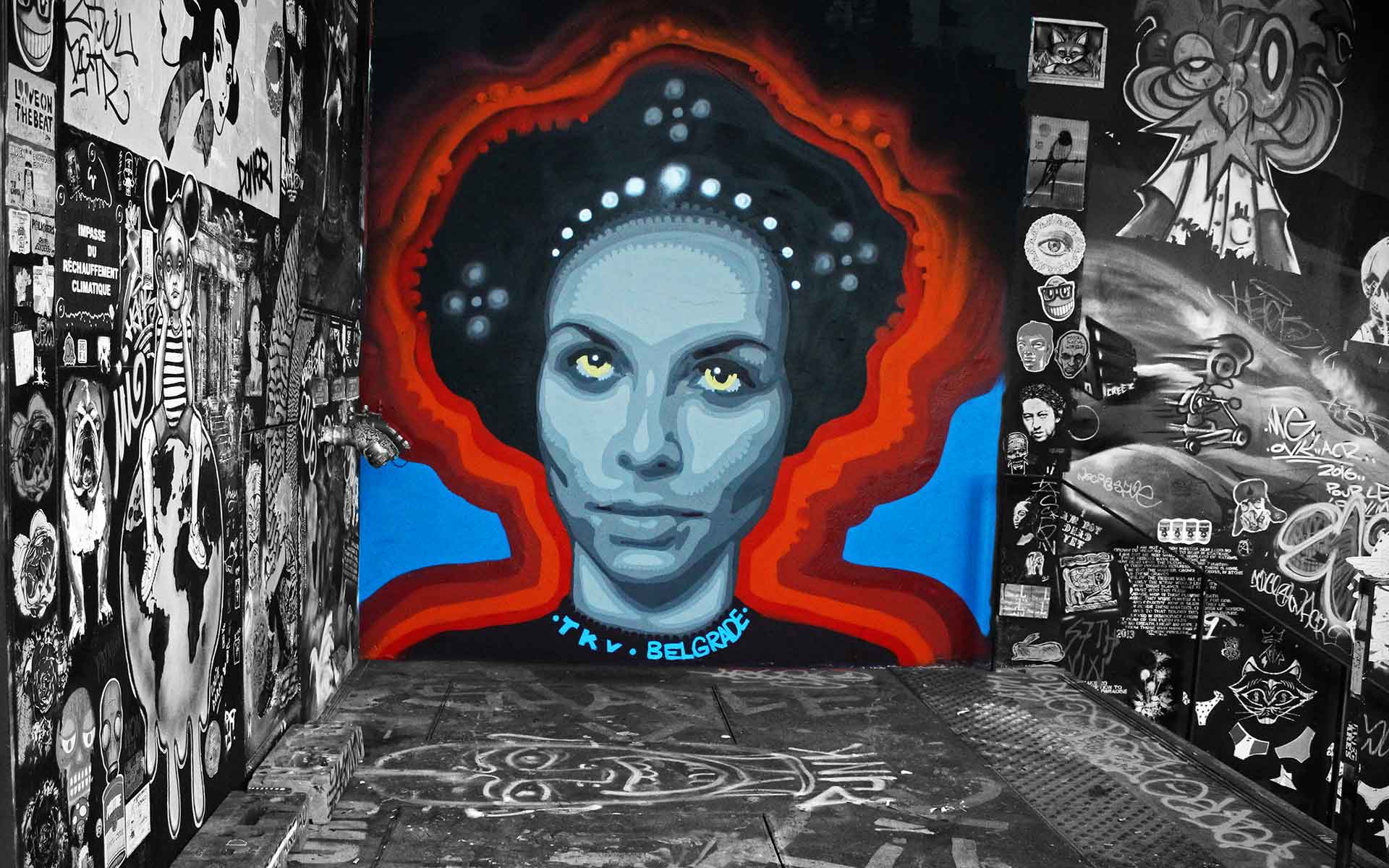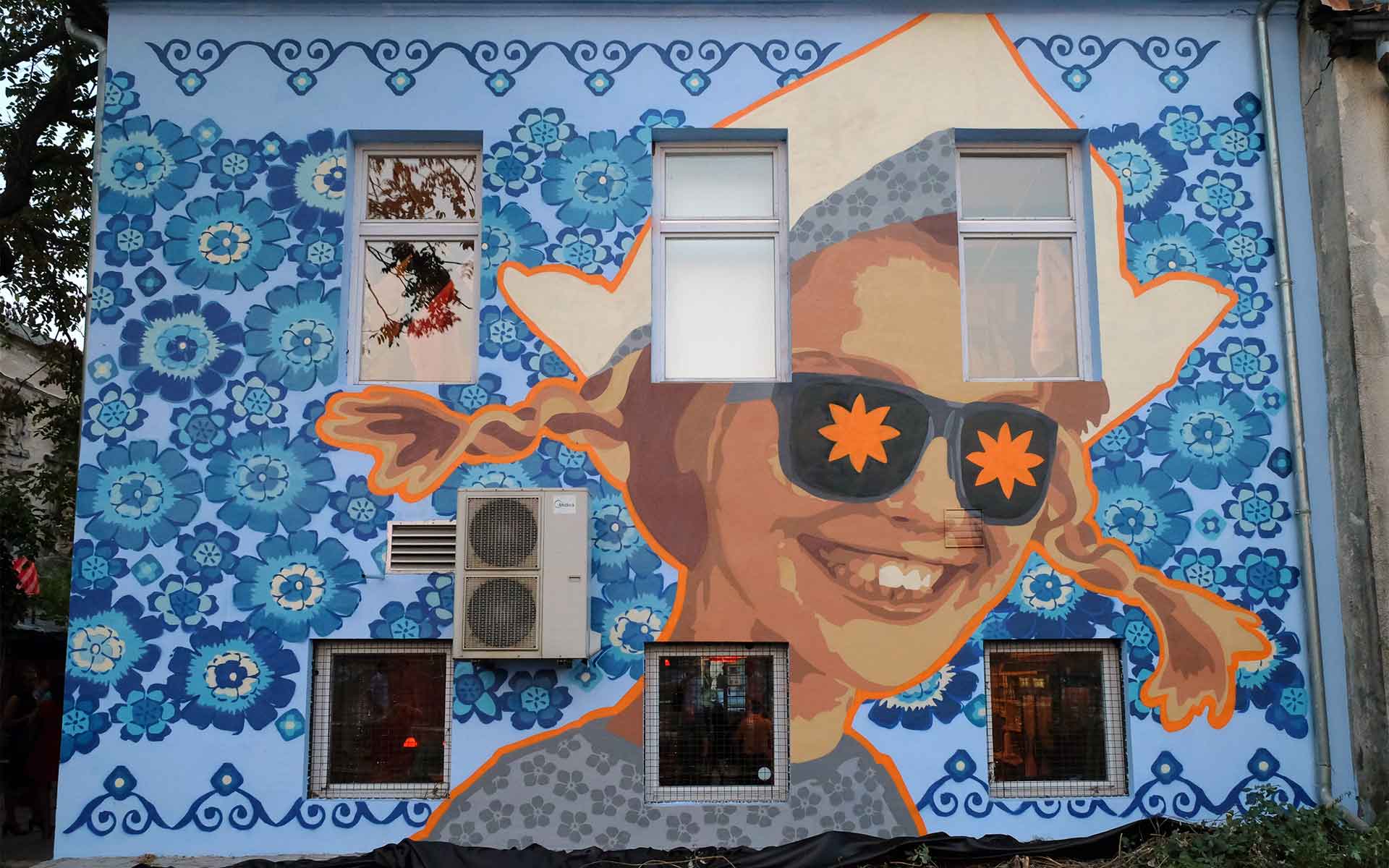 Living Proof Creative: You dedicated a lot of your energy and other resources to nourishing and privileging feminine voices. What does this empowerment look like?
TKV: This is something I'm dedicated to 100% and it's taking so many different forms!
The thing I enjoy the most is working with very young girls in workshops. I'm trying my best to communicate to them all the things I wish someone had told me when I was their age, which boils down to empowering them to do their thing and understand that they can do anything they want. I'm trying not to just show them how to make stencils and claim space, but also to inspire solidarity and get them to realize that there's no such thing that's "not for them" for whatever reason.
Also, for longer than I could remember I've been a resident at annual feminist festivals Pitchwise in Sarajevo and BeFem in Belgrade. I'm always happy to do some work for a cause I care about, and the energy I soak each time I work at these two festivals inspires me to pursue other related artistic and activist projects.
Living Proof Creative: What has come out of this in terms of your work?
TKV: I've been exploring various questions related to the notion of otherness beyond gender through my artistic practice. Back in 2018, I had a solo exhibition in Paris (Galerie Lithium, known for featuring street artists) titled 'New Woman'. The paintings are products of a very personal exploration of who these new women that I encounter in myself and in the other women I'm surrounded by are. It's also about women-to-come, or, you know, about becoming a woman.
2018 was in a way dedicated to presenting all sorts of utopian and dystopian possibilities that I see for women. I really enjoyed the time spent as an artist in residence at Aktionsraum Linkz in Linz, Austria. It was the first time that I have sold the entire collection before the exhibition was closed (laughs)!
Living Proof Creative: The same year you also hosted an International All Girls Street Art Jam and a panel discussion. What are the things you and the other girls brought up?
TKV: Yes, I organized the Jam with girls from France and Balkans at cultural hub Dorćol Platz where my atelier is and where I'm sort of an in-house artist. At the very beginning of the discussion, it was clear that it wasn't going to be about breaking into the boys' club, but rather about a kind of club that's working outside these boundaries and expectations. It was about how we are forging our own paths on our own terms.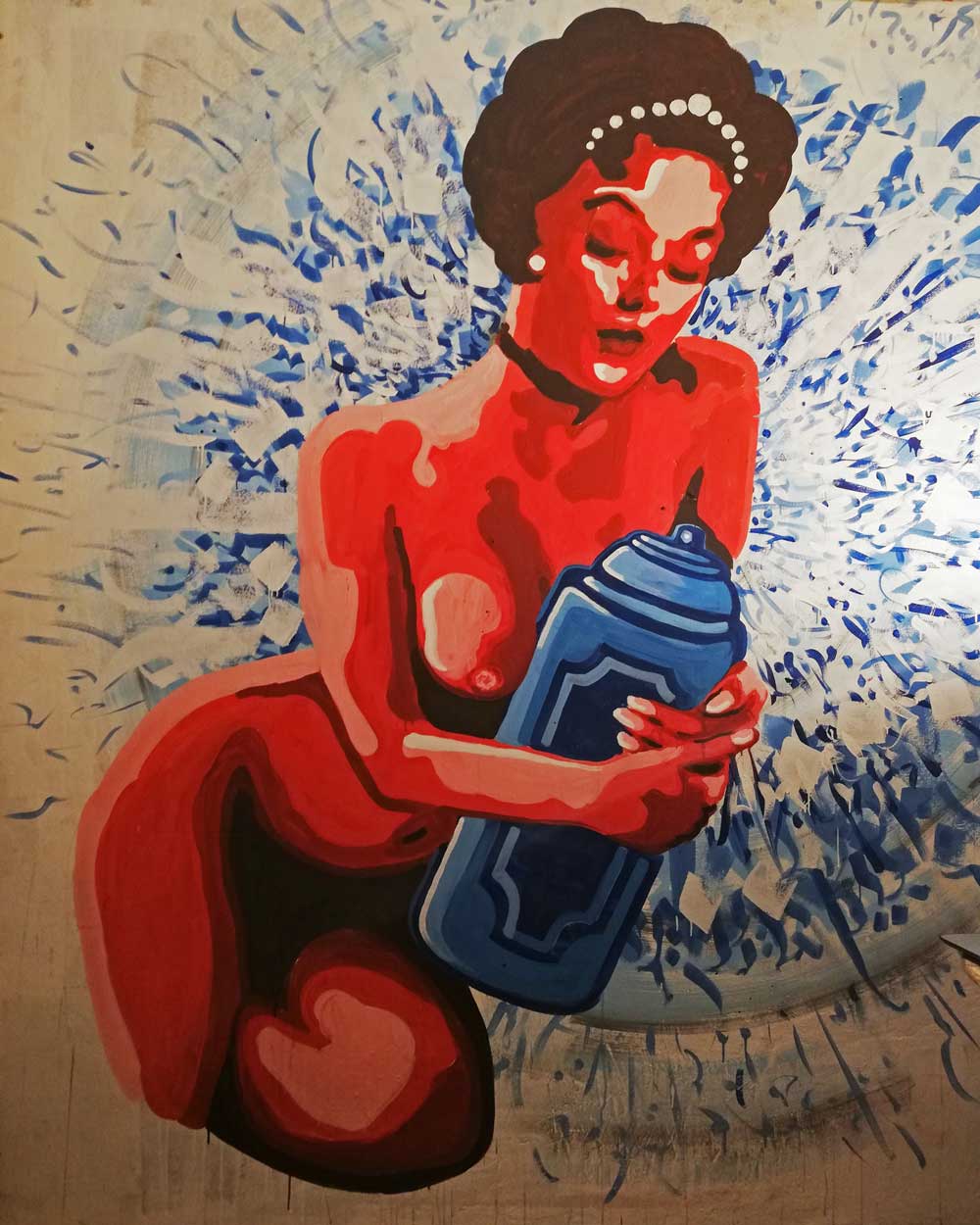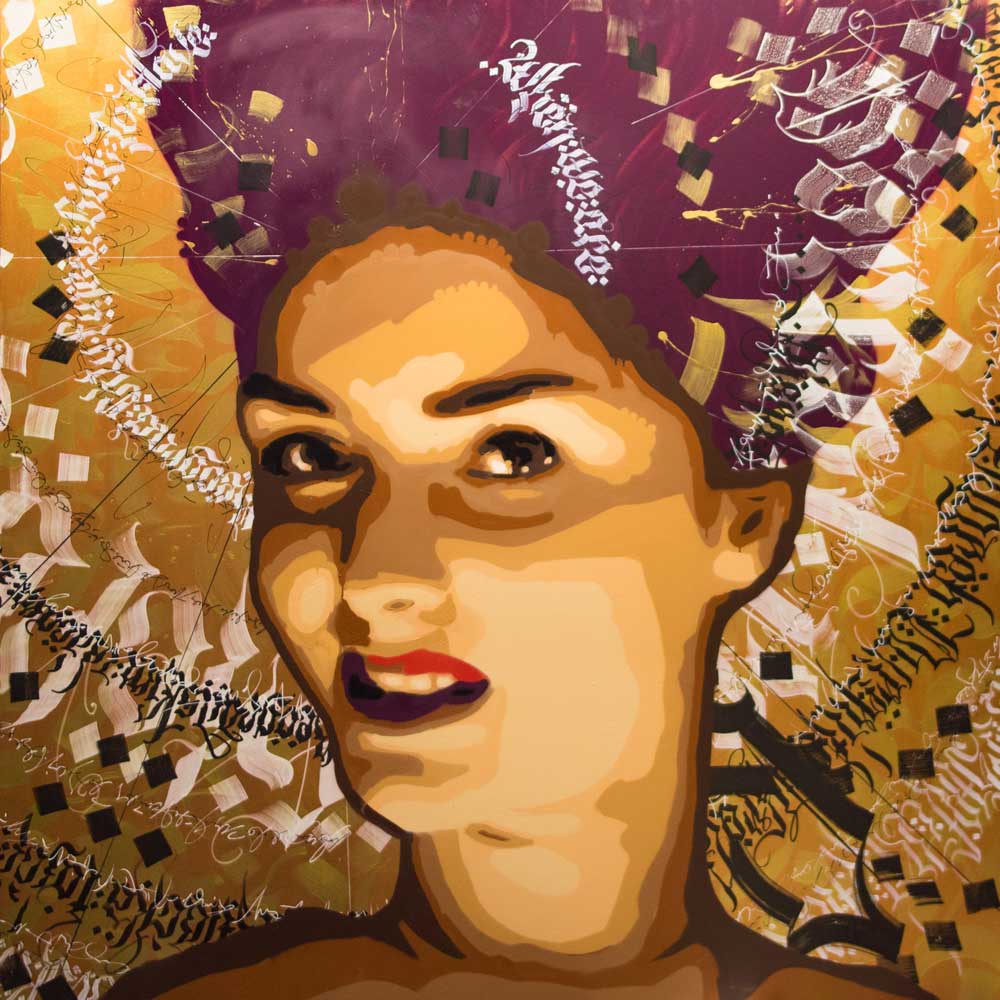 Living Proof Creative: When it comes to your creative process, what keeps you up at night?
TKV: Thinking of new techniques and finding ways to make the creative process more embodied. Thoughts and feelings I want to communicate are very visceral, so I'd like for the audience to perceive them as such. I explore how I feel through painting, and it is a very intimate process. It takes time for my feelings to mature. I'd like to dedicate the coming time to the creation of space that will allow me to explore and paint what I feel.
It takes a serious skill to balance between creating what I feel the urge to create and what is commissioned. Finding the right flow that suits you is important. I truly believe that the creative process is something that you get into and something that's practiced. My life is 100% dedicated to exploring this. It requires a delicate balance between many different worlds.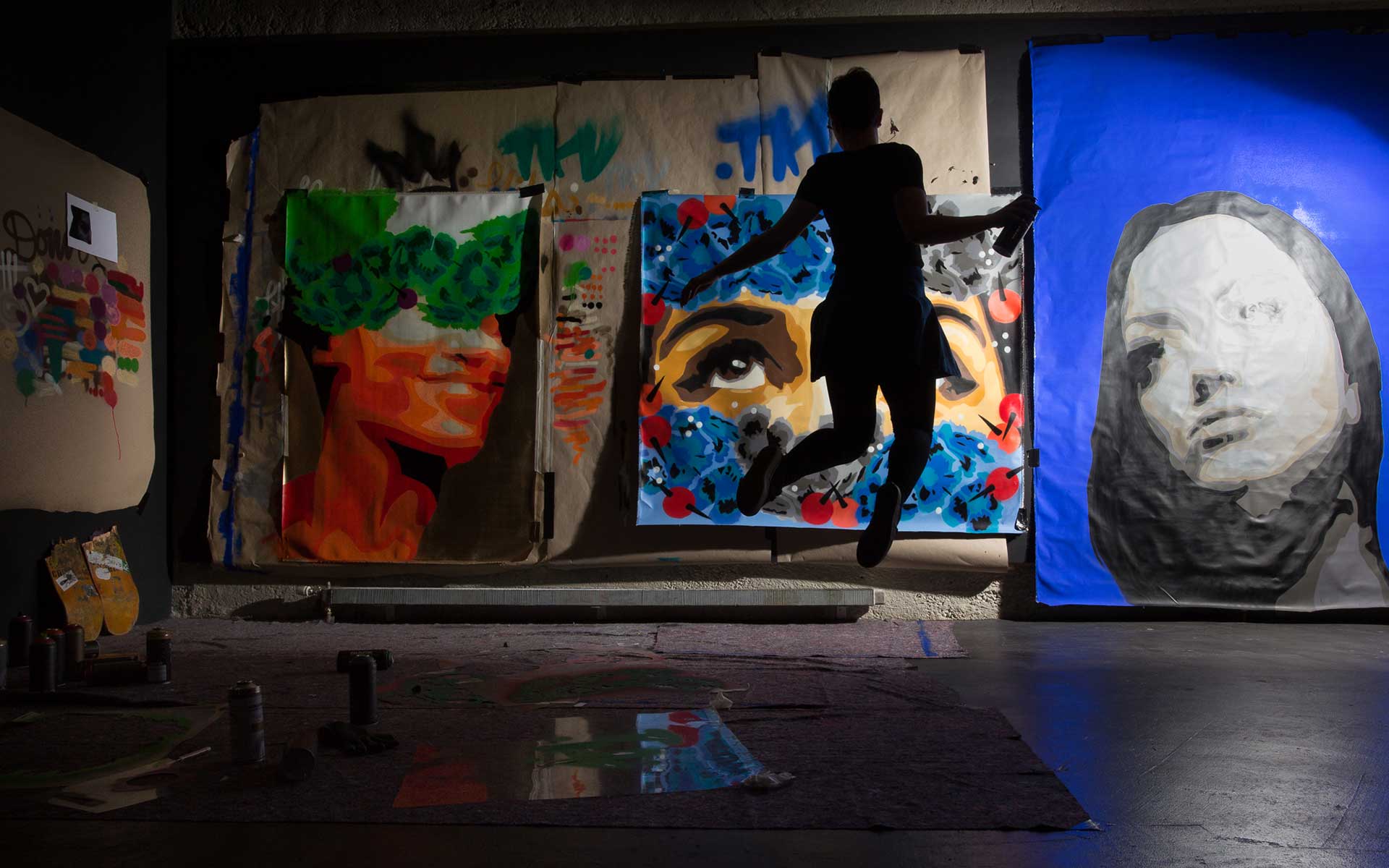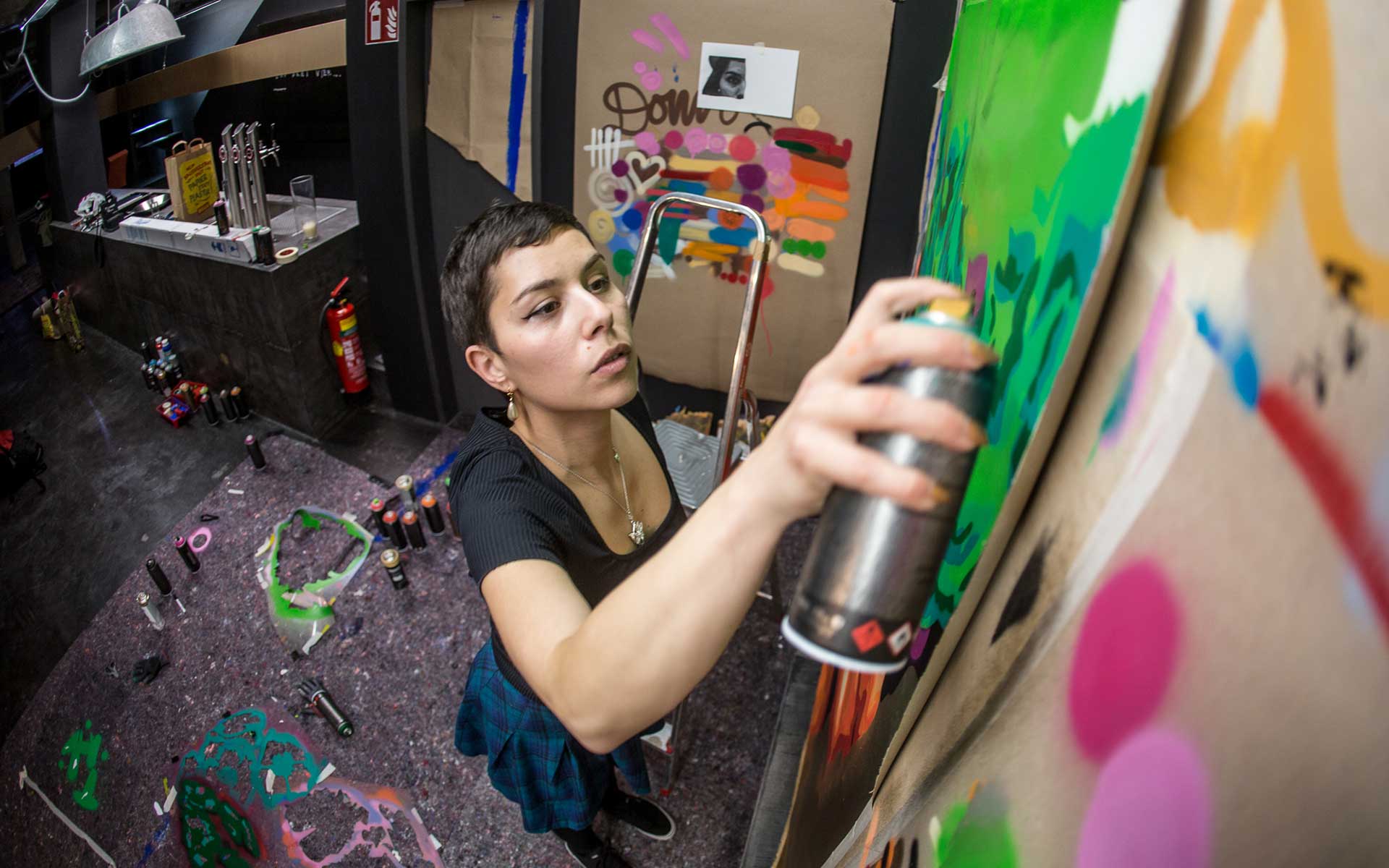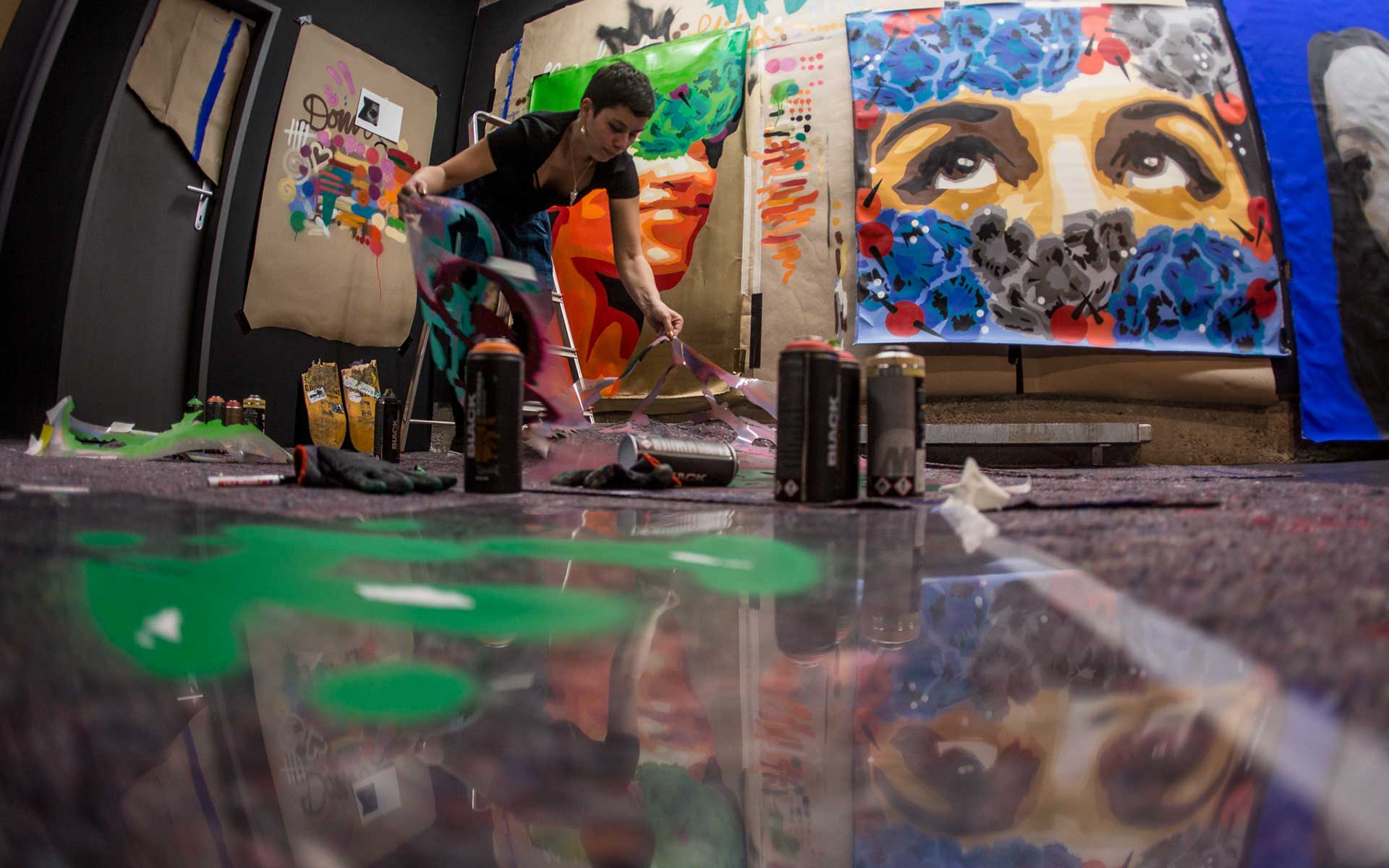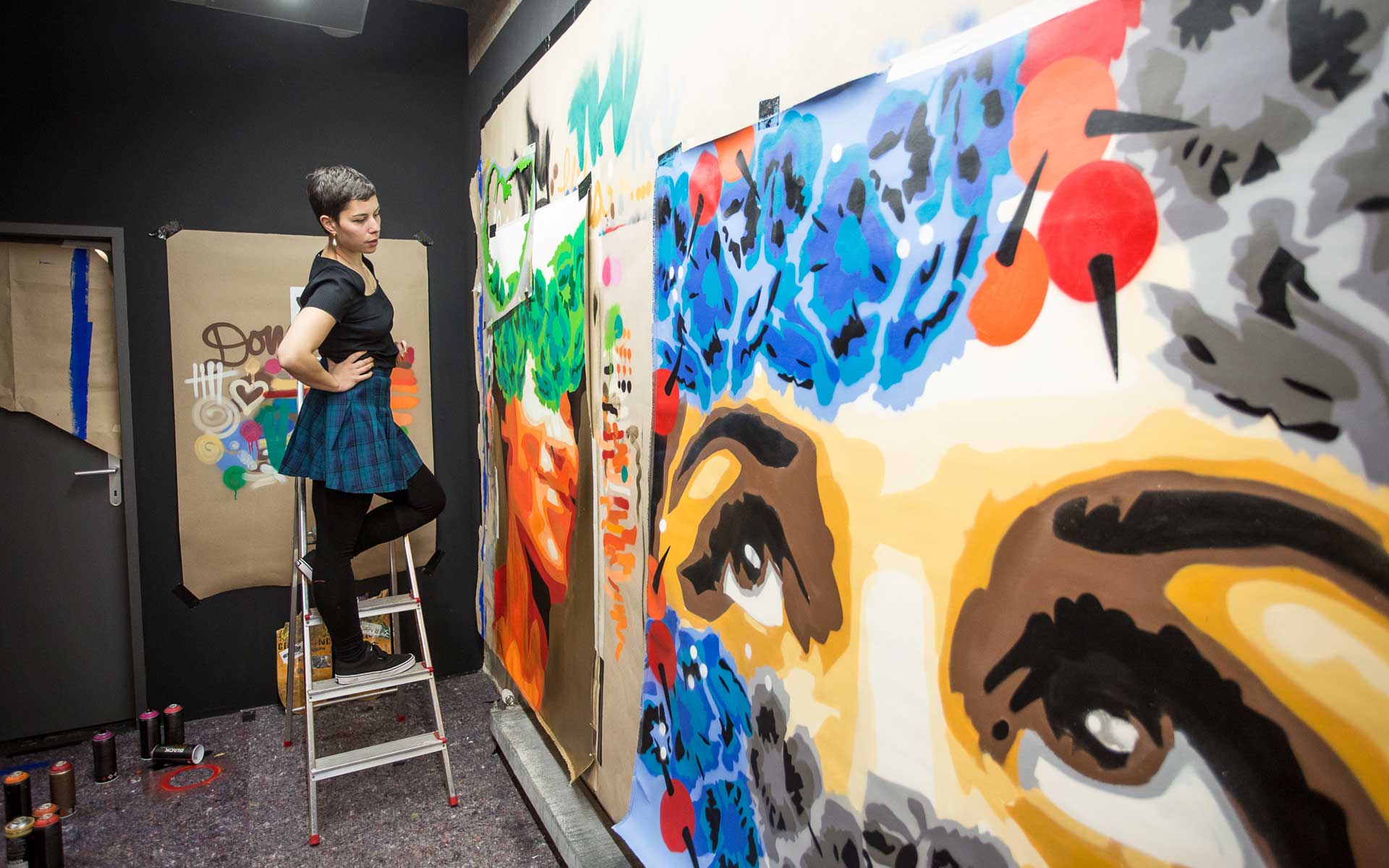 Living Proof Creative: Who in your community of creatives inspires you right now? Who should we keep our eye on?
TKV: My girls Kaldea, and Nataša Konjević, illustrators and graphic novel author Darko Grkinić who illustrated the first Serbian feature animated film Technotise: Edit i ja, Slaven Kosanović from Zagreb, young street artist Minja, and last but not the least Anne Lorraine Vigouroux who used to be a cultural attache at French Cultural Centre in Belgrade and now runs a vegan farm in the French countryside. She supported my art and is sort of my fairy godmother!
Living Proof Creative: What's your proudest TKV moment?
TKV: A moment when I realized that I have succeeded to reach the audience and that my work inspires them and enriches their lives. Getting feedback from people I don't know thanking me for what I do is a wonderful thing. The moment I realized that I can do my thing, make living out of it, create my own space within space, and make this very intimate practice accessible to strangers and resonant with so many people out there is something that made me very proud. Also, becoming a knight 😇 .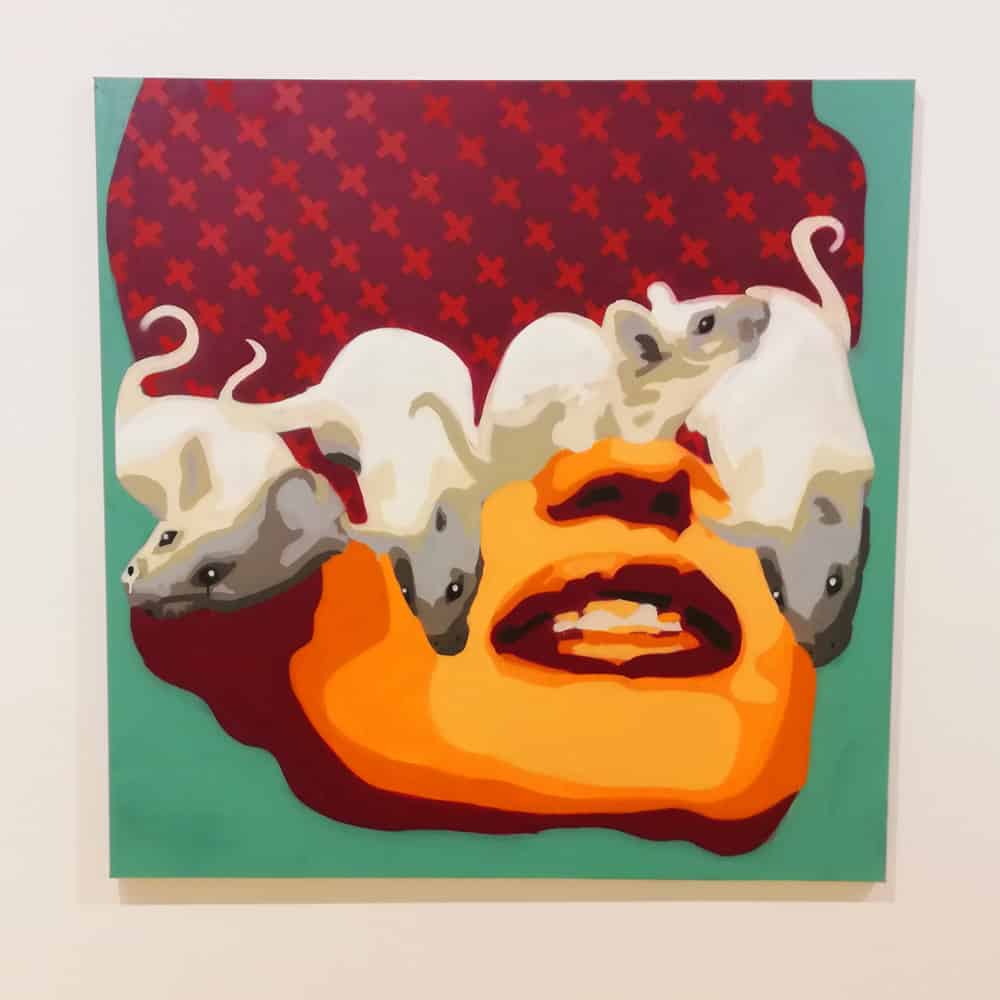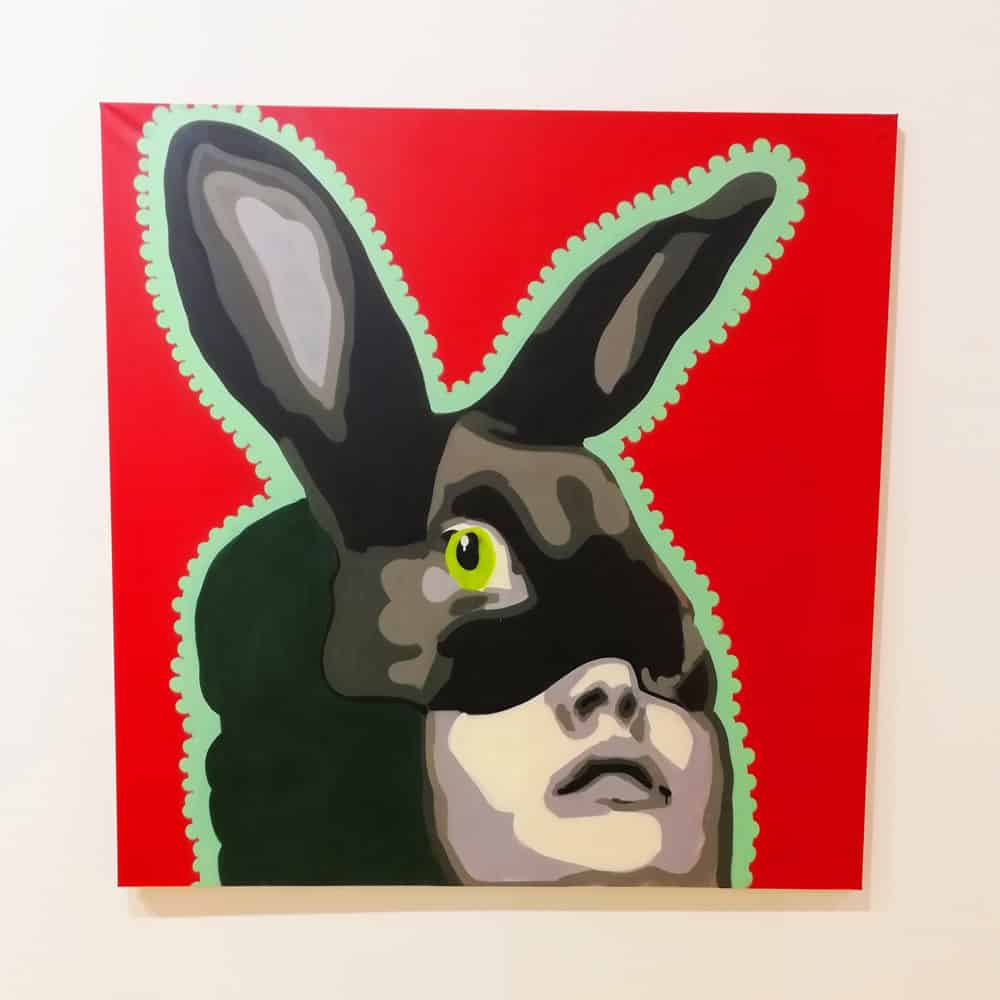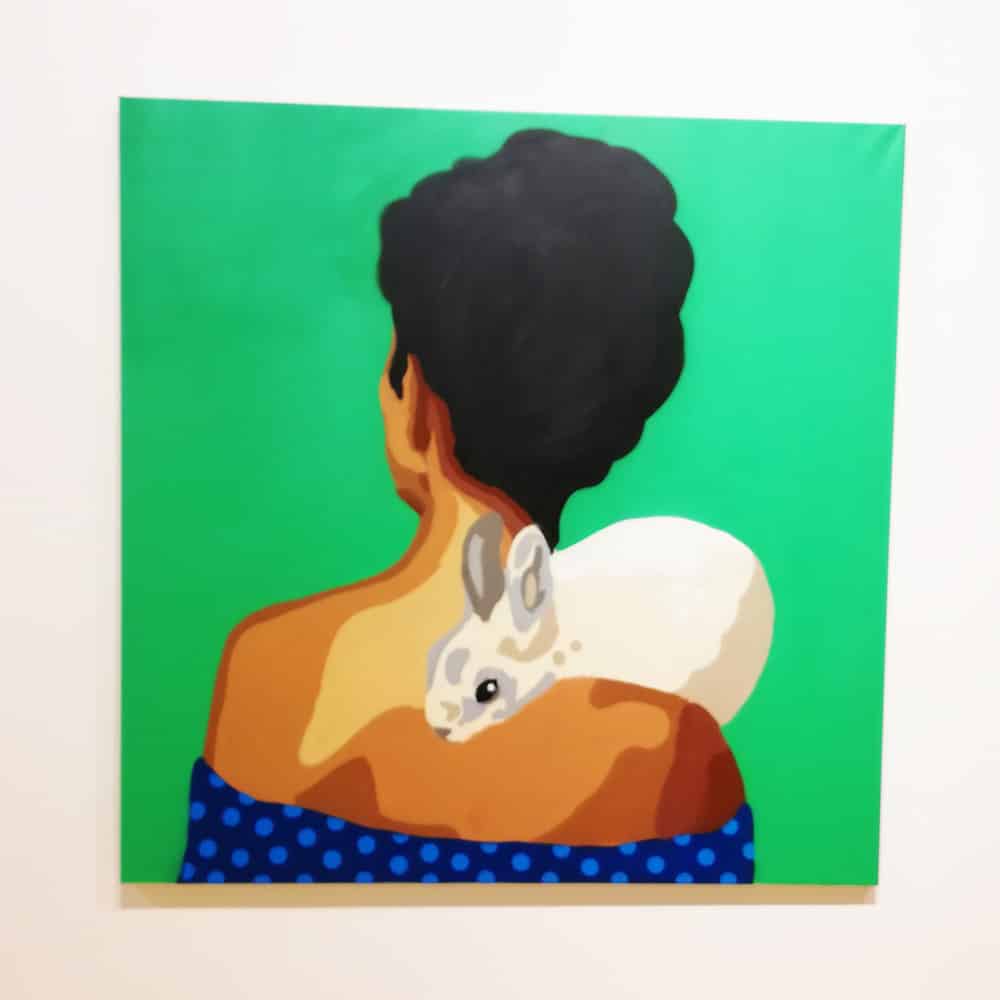 Living Proof Creative: What's your advice for the other creatives who are looking to start their own projects?
TKV: Relax! And experiment. And pursue every idea you have even if it doesn't seem perfect. The process of realization will show what it is because the process is the most important thing. Don't worry about the end product, just focus on the very process, and do it for yourself, not for the market. The process will give birth to something – an idea is an idea, but the process is a whole different thing. 
*All images are courtesy of the artist. Check out more at TKV's Instagram profile.