Since the pandemic turned the world upside down last Spring, the world of e-commerce has exploded. Unable to venture out and "shop live" created a dependency on click-to-buy transactions. And although there are plenty of accessible and affordable e-commerce platforms available, they are just shopping destinations that don't have the benefit of a built-in network of consumers.
Until now, that is. Introducing Facebook's latest eComm feature – Facebook Shops, which helps businesses easily sell online through Facebook's network of apps (like Facebook and Instagram) while giving consumers "a place to experience the joy of shopping versus the chore of buying."
This new feature is free for Facebook business account holders and a game-changing tool for online sales growth by creating a seamless, fluid "click-to-buy" experience for the millions of people who engage on Facebook's family of apps daily.
Facebook Shops
Like much of 2020, we have the pandemic to thank for the launch of Shops. As shelter-in-place orders swept the country last spring, small businesses were hit especially hard. In response, Facebook created Shops to make buying and selling online easier for businesses and more accessible for customers. "We hope these tools can relieve some of the pressure small businesses are facing right now and help businesses of all sizes prepare for the future," said Facebook in a statement.
Officially launched in May 2020, Facebook Shops lets businesses create a customized "storefront" to feature and sell products across Facebook's various apps, like Instagram and WhatsApp. Facebook Shops makes shopping "in-app" as easy as possible by creating a unified and cohesive shopping experience for people using Facebook, Instagram, Messenger, and WhatsApp. Shops can also sync with most e-commerce solutions (like Shopify), which eliminates the need to create product listings manually, automates inventory management, and allows you to manage all of your Facebook Shop orders from your Shopify dashboard.
"It's one simple and consistent experience across this family of apps, which means it is easier for people," said Zuckerberg about Shops. "That of course means there'll be higher conversions and more sales for small businesses."
What is Facebook Shop?
Before Facebook Shop, a business could feature products on their Facebook Business page under a Shop tab. If a fan clicked on it, they could view products. However, there was no personalization, no categorization, no in-app purchasing, and no syncing with e-commerce platforms, or Facebook's other social platforms, like Instagram. In sum, it wasn't a native shopping experience in the app.
All of this changes with Facebook Shop. Now businesses can create a custom "storefront" to sell products and offer customers a more seamless experience with enhanced communication and direct checkout in the app. Plus, the same shopping experience is available across Facebook's family of apps, including Instagram, WhatsApp, and Messenger. The process is more customizable, shoppable, and cohesive for both the seller and buyer.
What Are the Benefits of Facebook Shopping Feature?
The benefits are mighty with Facebook shopping in the new Shops – for both sellers and consumers.
Let's start with the design elements. The new Facebook shopping feature has design elements and creative tools to help bring your brand to life. Facebook Shop allows you to create a customized "storefront" with visuals, brand elements, and custom colors representing your brand identity more than the previous shopping features allowed.
Shop also allows for a more customized Facebook shopping experience. You can create, arrange, and customize product collections. Each collection will have a name, description, cover media, and include at least two or more products. You can organize products into collections with various themes to help your customers find products that are right for them.
Updates are seamless with Shop. For example, when you add new inventory to your Facebook Shop, people can see it in their news feed, on the Shop tab, or get a notification to encourage them to visit your Shop.
How Big Are The Facebook Shop Fees?
Good news! There's no charge to set up Facebook Shop – it's free. At this point, Facebook Shop fees are only applicable to products you sell directly through the app. In which case, you will have to use Facebook's payment-processing product, Checkout, which collects 5% of your total shipment or a flat fee of $.40 for shipments under $8.
Since Facebook Shop allows you to customize your Shop's checkout experience, you can avoid the fees by directing customers to your website to complete a purchase.
Great Facebook Shop Examples
When Facebook Shop launched, Facebook invited businesses with Facebook Page shops to convert to the new feature. Here are a few Facebook shop examples demonstrating the uniqueness of this interactive shopping feature.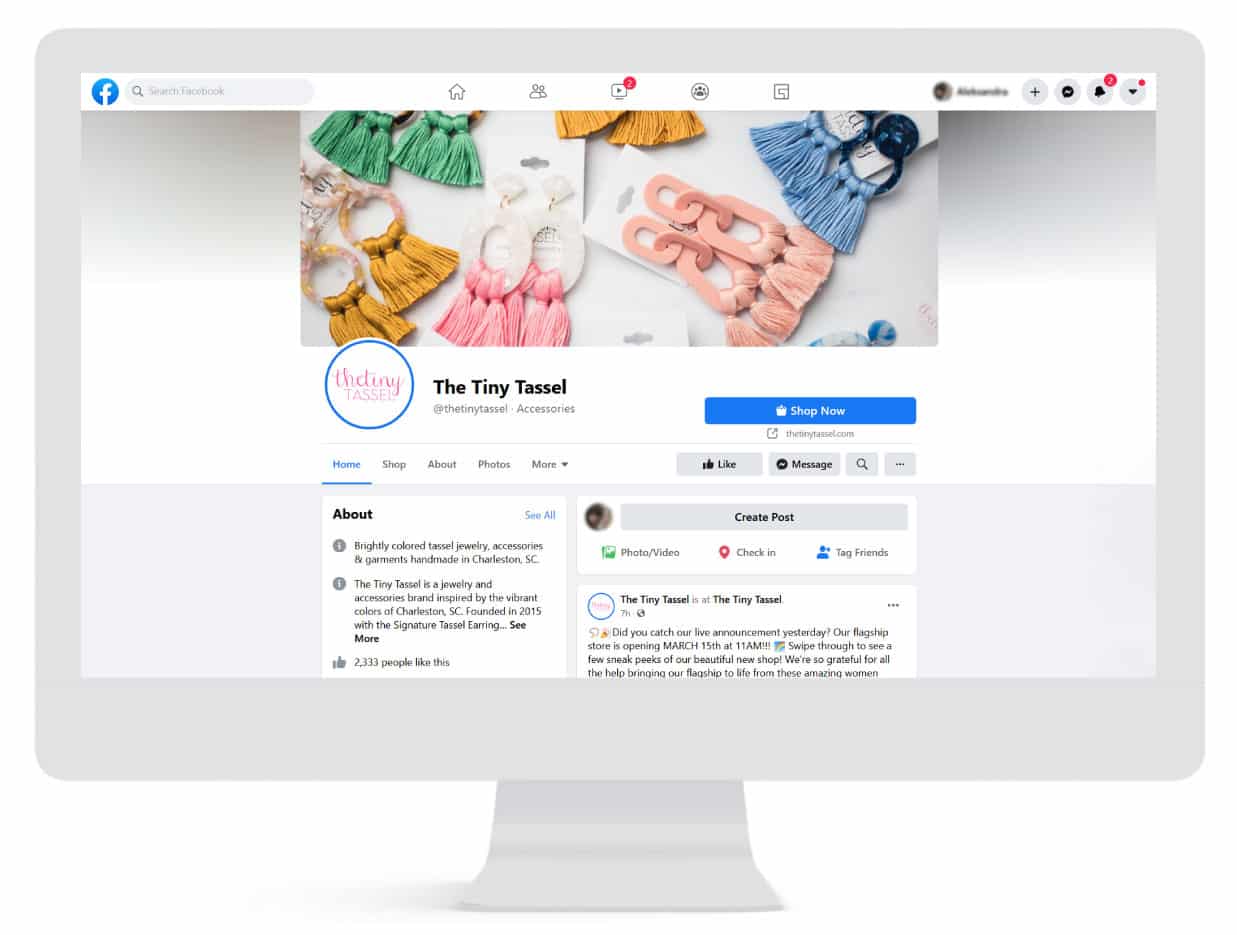 The Tiny Tassel
The Tiny Tassel sells brightly colored handmade jewelry, accessories, and clothes, and their Facebook Shop page reflects the whimsical playfulness of the brand. They've organized the shop by collection and signature pieces, making it easy for customers to find what they're looking for. They also offer in-app purchases, making the in-app shopping experience seamless from start to finish.
View Shop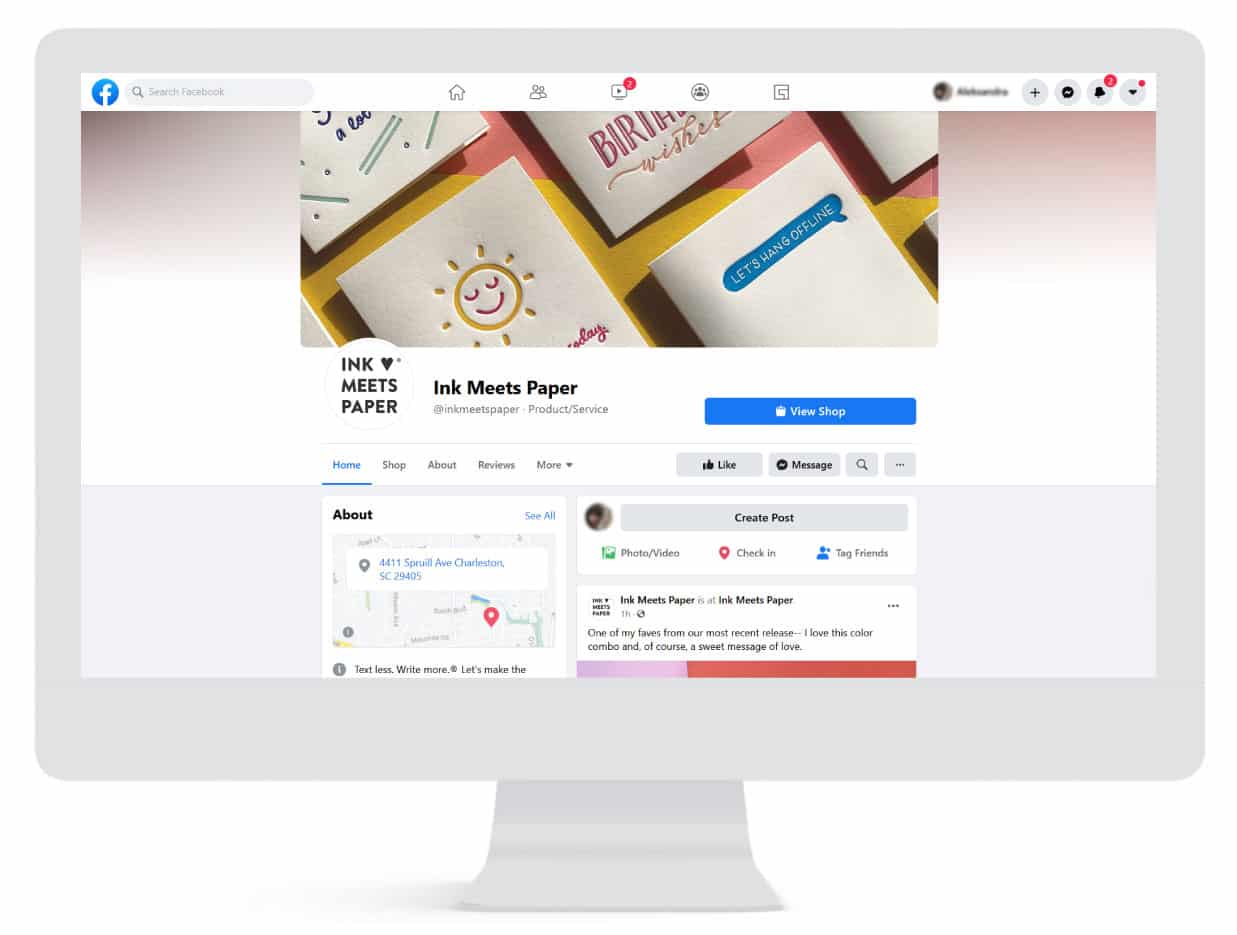 Ink Meets Paper
Another business that's taken full advantage of everything Facebook Shop has to offer is Ink Meets Paper. Like the shop we mentioned above, Ink Meets Paper has its products neatly organized by Collections, making it simple for customers to navigate their products and find what they want.
View Shop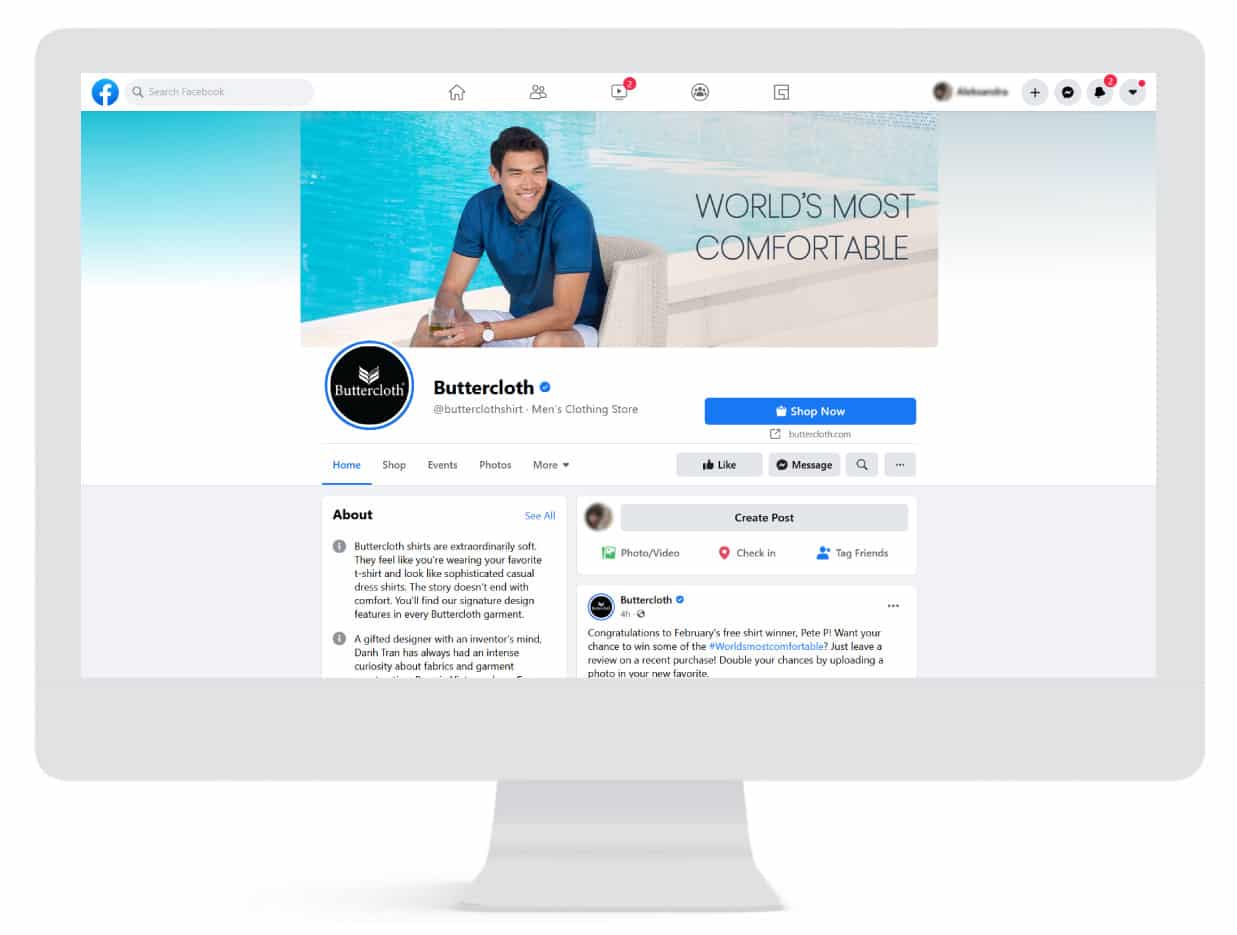 Buttercloth
Buttercloth is using their Facebook Shop to promote one of their most relevant items – face masks. When you click on the Shop tab, you'll see their variety of masks first. Once you click to view More Products, the rest of their products are displayed for purchase.
View Shop
These companies use Facebook Shop to deliver a seamless, interactive, cohesive shopping experience across Facebook's millions of users.
Instagram Shop
Like the Facebook Shop, Instagram shop lets you effortlessly sell your products through the app. Boasting about 500 million users, Instagram can seriously expand any business's sales potential.
What is Instagram Shop?
The Instagram shopping feature integrates your product catalog with your Instagram profile for seamless product tagging and Instagram shopping. In turn, this allows you to promote your products directly to Instagram users through your profile, posts, IG stories, and more. Rather than taking customers to a separate site to browse or buy, the Instagram Shop feature lets them browse and purchase with one click within the app.
Benefits of Instagram Shop
Instagram is an excellent platform for businesses to live – it's highly visual, promotes your products in a lifestyle setting, and is immensely popular. And with Instagram Shops, it's easier than ever to guide people to buy the products featured in your posts and convert them to buyers.
"When we launched the feature [Instagram Shop], we experienced a 25 percent increase in traffic and an 8 percent increase in revenue attributable to shopping on Instagram," shared Shari Lott, founder/CEO of kids apparel brand Spearmint Love.
Before IG Shop launched, it was difficult to promote the purchase of a product featured in a post because links in posts weren't allowed. Businesses had to mention "Click the link in our bio!" to take customers to a place to shop. And an account could only have one link in the bio, so forget promoting more than one product! Instagram Shop eliminates all of that and allows you to tag your posts directly with a shop function – it's brilliant.
Plus, when a customer clicks the Shop tag in your post, they are taken to your catalog. So not only do they see the product they are interested in, but they are also introduced to all the other products in your catalog. Like Facebook Shop, Instagram will save their purchase information safely, so they don't have to bother creating accounts on other websites or re-entering credit card information.
Creating an Instagram Shop will drive sales directly from Instagram posts, shorten the buyer's journey, and turn your Instagram account into a convenient online shop.
Instagram Shopping Tags
The ease of shopping is all due to the "shopping tag" you can feature in your Instagram posts. If a fan likes an item (or items) in your post, they can tap the shopping tag to see and purchase what is featured. Tagging products is a simple process, and even better? Once you have your catalog set up, you can go back and tag products in older posts.
There are a couple of caveats with Instagram Shopping tags, though. First, you can't tag a product and another account in the same post. You have to choose one or the other. Also, you can't promote or boost shoppable Instagram posts.
However, all in all, the new Instagram Shopping feature and the easy-to-use Shopping tags make turning your Instagram account into a one-stop-shop seamless and profitable.
Great Examples of Instagram Shops
To see how powerful the Instagram Shop feature is for businesses, check out these examples of companies using the shop feature in their posts. With each, customers can easily scroll through their posts and see products in lifestyle settings, then explore and shop the product by clicking on the shopping tag in the photo.
It's important to note that before you dive into the logistics of how to set Instagram shopping, you must have an established Facebook Shop first. So you can either have a Facebook Shop and Instagram Shop page – or just a Facebook Shop page. Either way, when you load your products to the Facebook Shop page, the catalog will automatically sync with your Instagram Shop page. It all works together to make selling across the apps as easy and seamless as possible.
As we mentioned earlier, the new Facebook Shops features are real game changers for e-commerce companies, especially smaller businesses. Suppose you're ready to take advantage of the millions and millions of users on the Facebook family of apps and enable the new Shops feature – but you just don't have the time or aren't sure how to set up Facebook shops in either app. The social media professionals at Living Proof Creative can help. We are experts in the logistics of these new features, and we will cover all the bases of setting them up and taking them live. Get in touch if you're ready to give your business the sales edge it needs.