Over the course of a previous couple of weeks, global data usage has reached new heights. According to Vodafone, a telecommunications company that operates in over 65 countries worldwide, data traffic has spiked by 50% in some markets.
With worldwide lockdowns, businesses are increasingly moving their operations online, and many educational institutions are doing their best to keep both students and employees engaged in virtual classrooms.
Meanwhile, many are fighting solitude and boredom by either staying in touch with their family and friends through Skype and the likes of it, binging on Netflix, or idly scrolling. And apparently, everyone else is playing video games: according to statistics, online gaming has reached its record high by peaking at 75% more usage than before the pandemic.
Even though the internet can't directly be affected by the COVID-19, the outbreak may slow down internet traffic speed. But fear not: this immense surge in traffic probably won't break the internet. While the network is remarkably resilient and designed to accommodate such large spikes in traffic, the platforms we use aren't as robust. When it comes to apps and similar tools, failures are likely to happen due to a lack of adequate storage, bandwidth resources, or compute on these platforms to handle the heightened traffic.
While we've witnessed failures caused by increased traffic volume on gaming and e-commerce platforms before, what happened recently in China paints a more accurate picture of this matter. Ever since the outbreak started, various educational, video conferencing, online gaming and streaming service applications have been crashing. The list includes applications such as WeChat Work, DingTalk, and Xuexitong, to name a few.
In order to help you keep the glitches and slowdowns at a minimum, we have assembled recommendations for responsible and rational internet consumption.
Dosing Your Internet Consumption
Prioritize Your Mental Health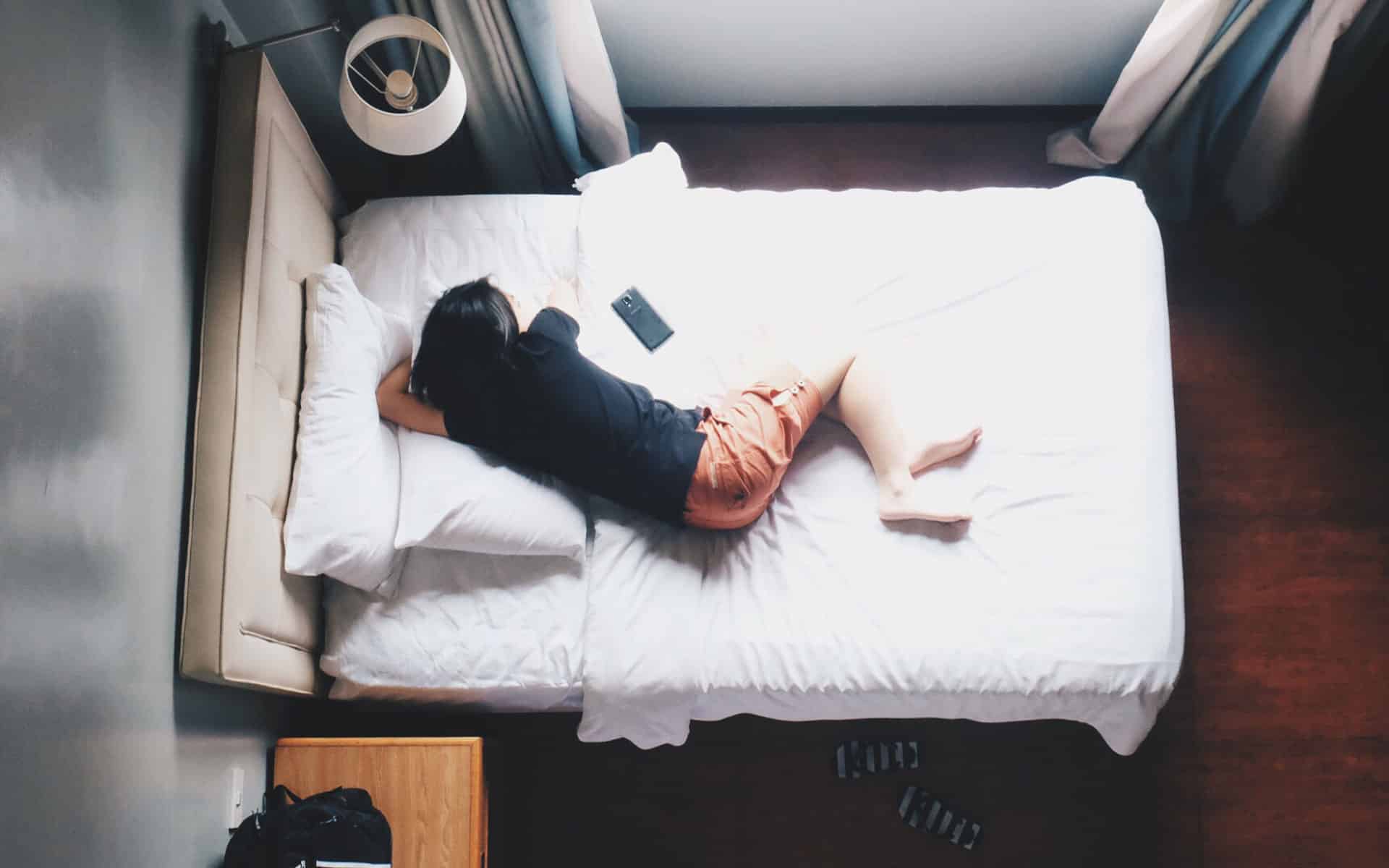 First things first – the main reason why we should collectively dose our internet consumption is not that we don't want the internet to crash. Rather, it's because we should prioritize our sanity and stay on top of our mental health hygiene.
Anxiety, panic, fear, and anger are contagious emotions that are transmitted faster and wider than the virus ever will be. Things like poorly interpreted scientific data,  conspiracy theories, fake news, disturbing imagery of empty grocery store shelves and people dying in hospitals all tap into these emotions, and often affect us on an irrational level.
Luckily, there's a number of things we can do in our collective attempt to help each other feel better in the middle of such a major crisis. We can all start by thinking twice and fact-checking before sharing links and information with our friends and followers. Now is also a good time to slow down and limit the hours we spend on social media and watching or reading news. While at it, we might as well finally try to be a tad more mindful of our endless passive scrolling.
You've probably heard this before, but it really shouldn't be about social distancing. Instead, it should be about physical and digital distancing, as well as about much needed social solidarity.
Tips on How to Use the Internet Responsibly
Days may have blended into a big blob of the-other-day, today, and in-the-coming-days, but rush hours have somehow managed to stay the same. Digital traffic still peaks during regular working hours, meaning between 9 AM and 6 PM.
Here's what you can do to ease the burden on the internet traffic:
Avoid the usage of online entertainment services such as video streaming platforms and online video games during these hours. This will help telecommunications networks to enable sufficient data flow for businesses that are crucial for the regular functioning of the economy and overall society, including office teamwork, distance learning, and other professional services.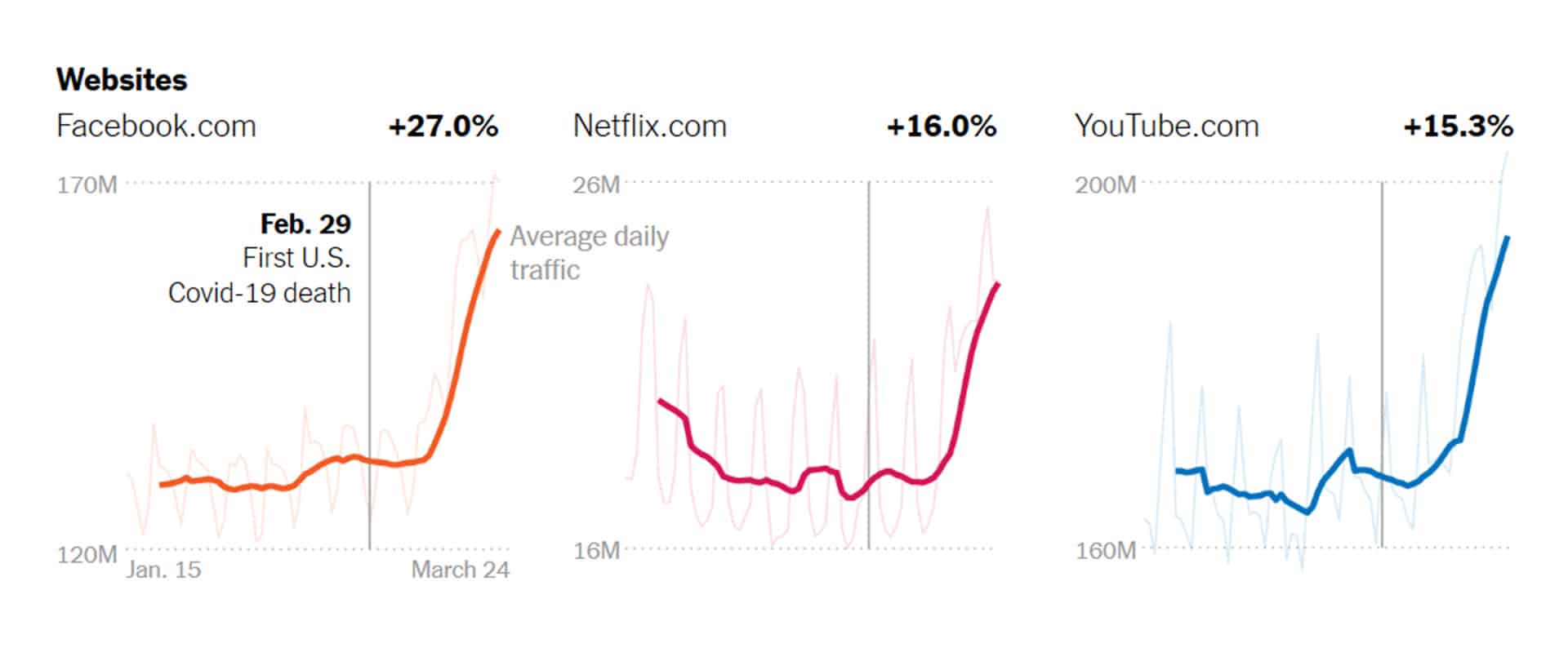 Averages are calculated with traffic numbers from each date and the six days preceding it in order to smooth out weekly variations (recreational internet use, for example, often spikes on the weekends). Percent change is from the average on Jan. 21 to the average on March 24. Daily app traffic is measured in sessions — the number of times the app is opened — and one user can have multiple sessions in a day. Source: The New York Times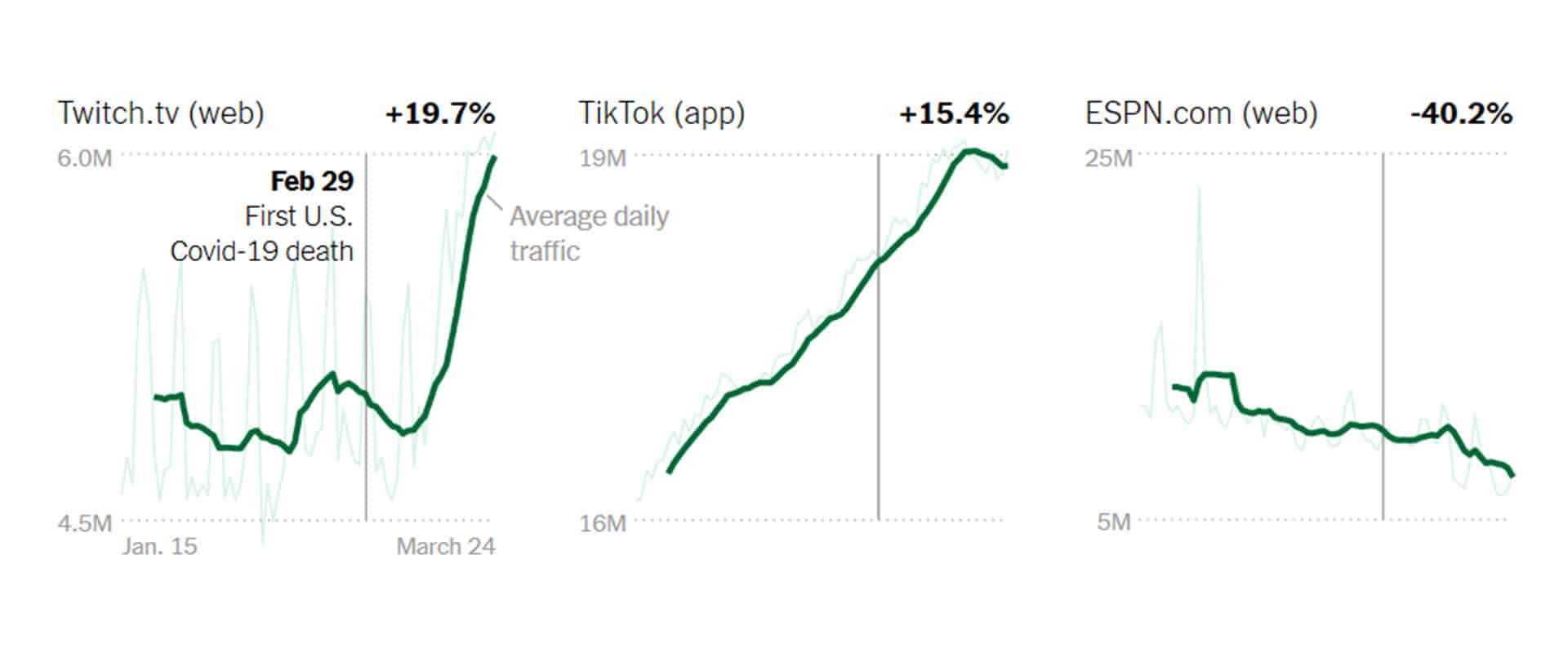 Percent change is from the average on Jan. 21 to the average on March 24. One user can have multiple sessions in a day. Source: The New York Times
If you live in a household with children, try to keep them occupied with creative offline activities whenever it's possible.
Make sure to pause or stop auto-play features on various platforms that allow it.
If you are lucky enough to be able to work remotely, it might be wise to make use of collaborative apps and platforms that don't primarily rely on video applications. Voice calls are the new this-meeting-could-have-been-an-email.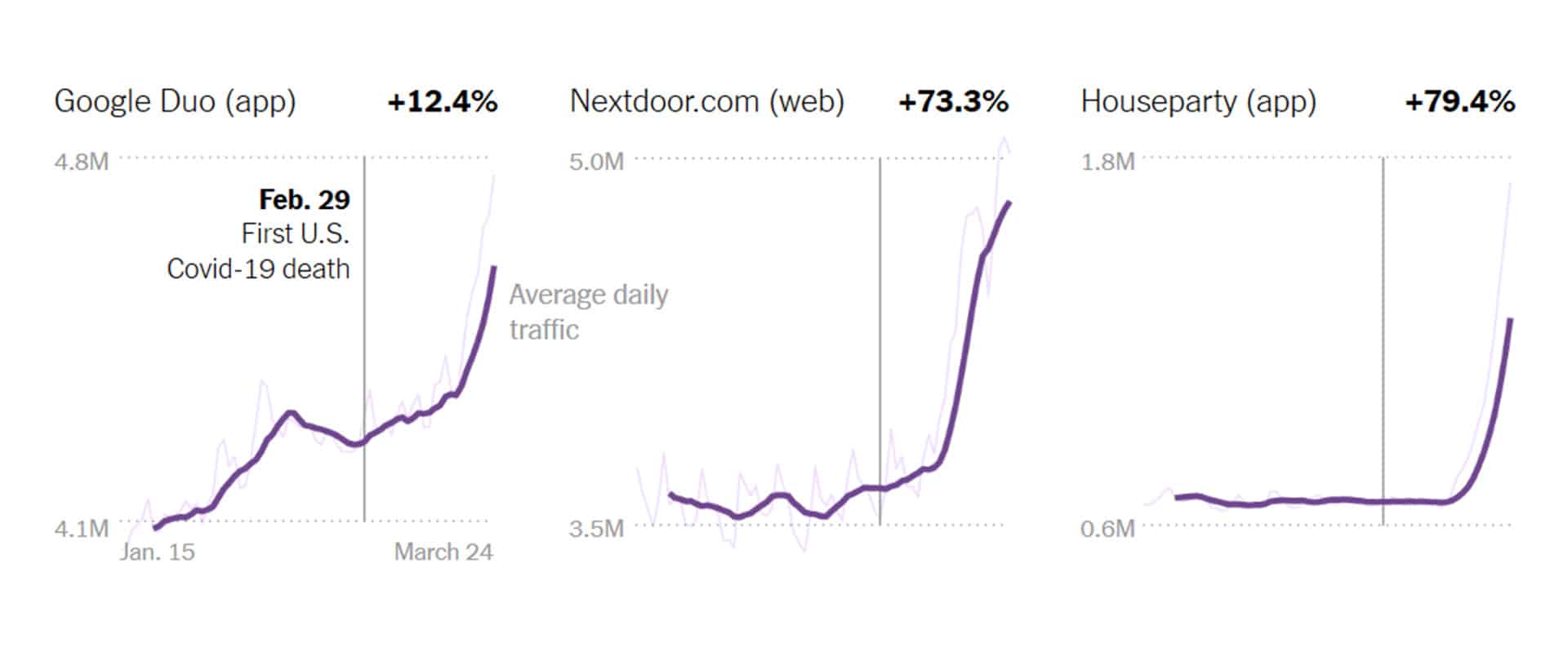 Percent change is from the average on Jan. 21 to the average on March 24. App daily traffic is measured in "daily sessions." Source: The New York Times
On the same note, it is a great moment to be a bit nostalgic and rely on relics of the past. If you still have access to it, take advantage of landline networks instead of making phone calls using cellular networks. This way we can collectively avoid overwhelming the mobile telephony infrastructure.
Avoid sending massive digital files and bulk emails. If this is unavoidable, make sure to compress them first.
Only download files that are necessary and send a link to the file's location whenever it's possible instead of burdening the network with attachments.
Another thing that may help you keep a relatively fast connection is updating your electronic devices with the most recent software versions. Despite the fact that your gadgets are immune to coronavirus, they are still vulnerable to digital viruses and malware, so make sure to keep protection software updated too.
Tips for Limiting Internet Data Usage on Windows
In addition to these general tips, there's a lot more you can do in order to dose your internet consumption.
Responsible Windows users out there can limit both Ethernet network adapter and Wi-Fi to restrict unnecessary usage. Specifically, WIndows 10 (version 1803) has features that allow network usage monitoring and prevent going over data plans.
You can configure this by following a few easy steps:
Open Settings and choose the 'Network & Internet' option, then click on 'Data Usage'. Once you're there, you'll see a 'Show settings for' drop-down menu, where you can select the wireless or wired network adapter.
Furthermore, click the 'Set limit' button under the 'Data limit' option. Here you can select for how long you want to limit data. Options include 'One time', 'Monthly', and 'Unlimited'. Based on your choice, you can further specify the information, including the data limit in terms of data plan allowance, as well as a unit, meaning that you can specify limits in megabytes or gigabytes.
Make sure to click the 'Save' button once you're done. Don't forget that you can use the settings page to monitor the current use, remaining data, or how many days are left before the counters reset.
Tips for Reducing Internet Usage on Macintosh Computers
If you are a responsible Mac user, you can also play around System Preferences.
You can reduce internet usage by also following a few easy steps:
In the aforementioned 'System Preferences' select 'App Store', and make sure to uncheck all automatic updates.
If you are using iCloud, instead of 'App Store' choose 'Internet Accounts' and 'iCloud', where you can uncheck the 'Photos' and 'iCloud Drive' options. Similar applies to Dropbox – just make sure to select the 'Pause syncing' option.
Another thing you can do is turn off the automatic download for email attachments. You can do this by choosing the 'Mail menu' in the Apple Mail program. Select 'Preferences', and make sure to click on the 'Accounts' icon and use the 'Advanced' tab. Once you're there, deselect 'Automatically download all attachments' option.
You can also set email checking to manual by following these steps: select 'Mail Menu', choose 'Preferences', select 'General', click on 'Check for new messages' and finally select the option 'Manually'.
Enjoy a Rare Bit of Your Offline Life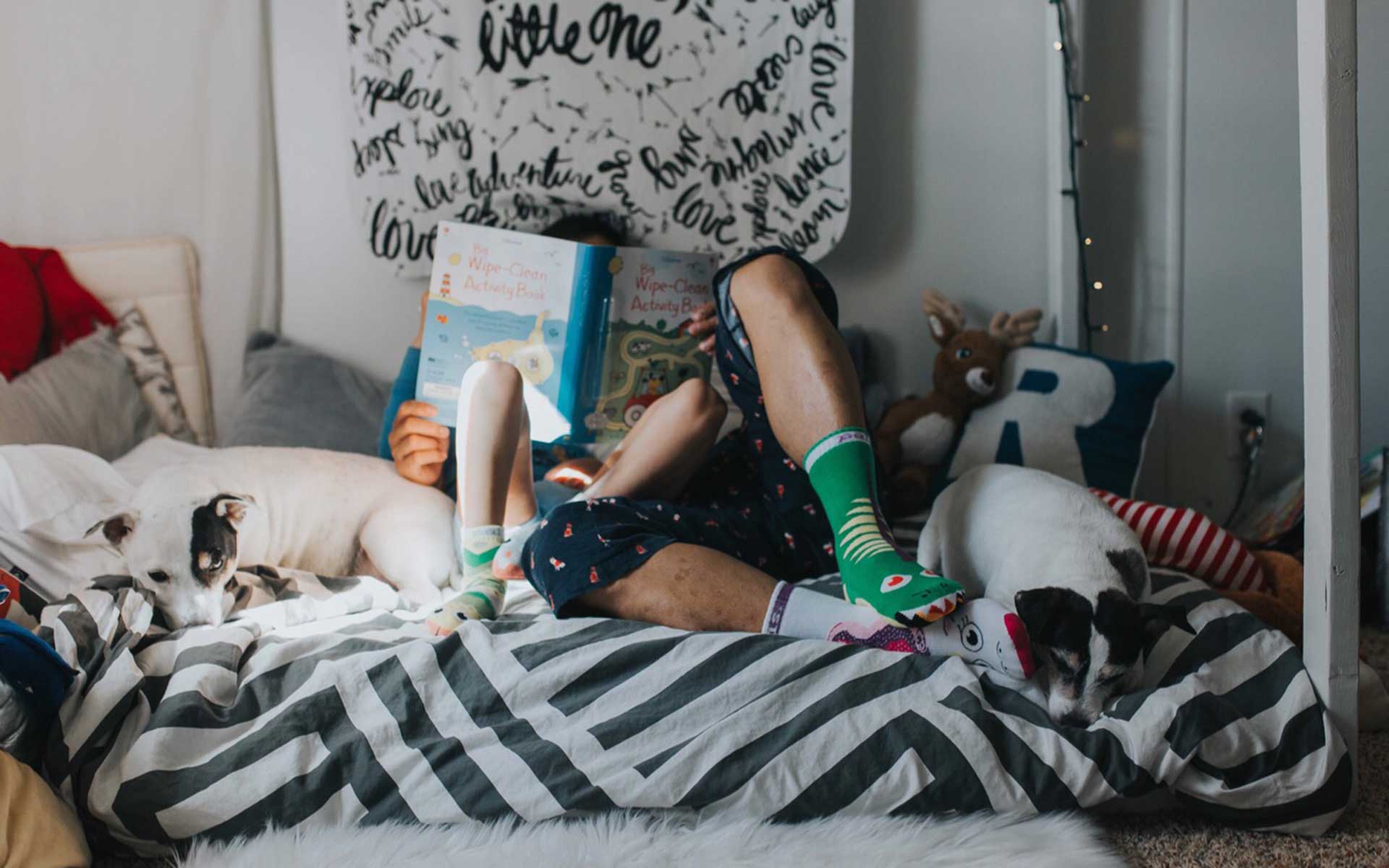 Finally, abstinence has proven to be THE foolproof method for limiting all sorts of things. We know it's nearly impossible to stay offline 24/7, but don't forget that there are fun things you can do while disconnected. In case you're running out of ideas, check out our fun tips and tricks that will keep you occupied at least for a while.