Once known as the creative force behind the Lower East Side scene, Dave Ortiz made fame as a graffiti writer in the 80s and Zoo York's first employee ("Mr. Everything") in the 90s, and by dropping a limited edition of Nike Air Max 90 in the early 00s. He has since shifted between mediums such as photography, painting, and printmaking, and is now a proud owner of the first vodka distillery (OUR/NEWYORK) in Manhattan since the prohibition.
It's little to say that Dave Ortiz is a kind of creative whose output defies categorization. Influenced by graffiti, Matisse, and Keith Haring alike, his work explores topics such as cultural assimilation, heritage, and contemporary US identity politics. We caught Dave amidst his studio hunt to ask him a few questions about his artistic practice, commercial collaborations, streetwear design, and about rolling with the cool kids.
[ultimate_spacer height="10″ height_on_tabs_portrait="50″ height_on_mob="50″]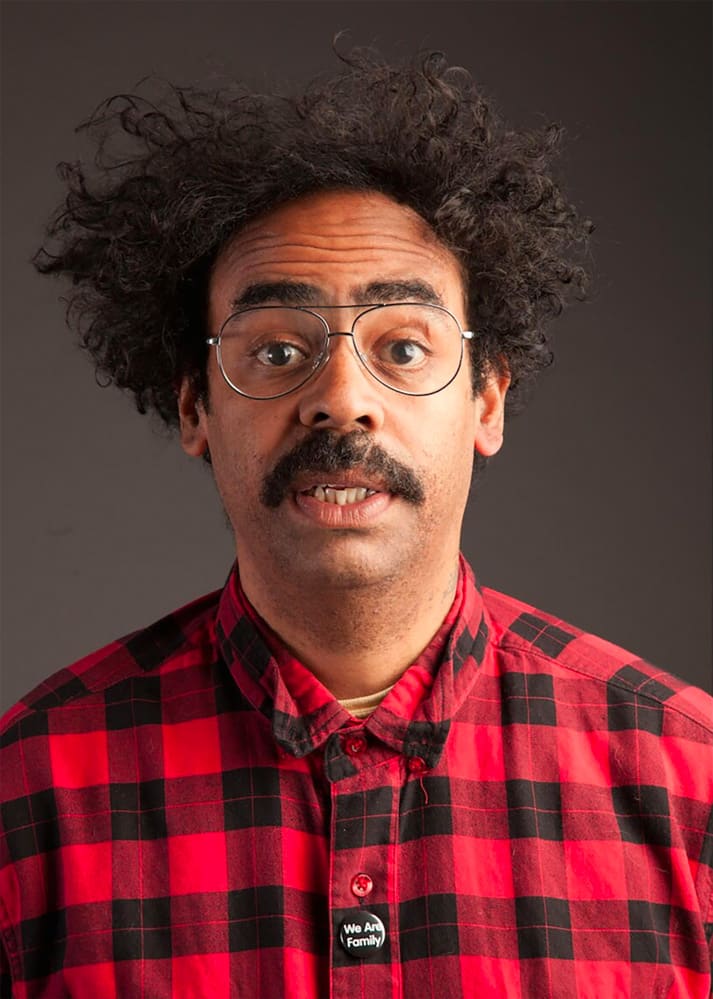 Living Proof Creative: You're known for your work on such diverse projects – from starting the legendary Dave's Quality Meats shop to abstract art and the Little Camera Big Picture project with Elijah Wood. What have you been up to lately?
Dave Ortiz: [laughs] Honestly baking during these crazy times. I started making cakes and cooking up a storm.
Living Proof Creative: So what's cooking? What else are you currently working on?
Dave Ortiz: I've been doing a lot of photography to hold me over while not making visual art, but I guess that is still a form of visual art. I have also been working on a series since 2016 called the "United Deaths in America". It's a whole political series, not really talking too much about this until I figure out how to present this project to the world.
The stuff I'm thinking about is mainly just like the work I've been doing, just a bigger scale. Stuff that's similar to the Layers project, but bigger than 16×20.
Living Proof Creative: When it comes to your creative process, what keeps you up at night?
Dave Ortiz: Not having space and having too many ideas I need to get out. I need a new studio to work from since they sold the building I was working out of. I knew it was coming once the Wholefoods opened up.
Living Proof Creative: I read somewhere that you said that whenever people of Hispanic heritage see your paintings from the Goya series, they immediately have a Goya story to tell you. In a way, it's a connection to their culture and upbringing. Can you tell us some of the stories that were resonant with you?
Dave Ortiz: It's mostly memories people have with their mothers or grandmothers. One person said to me that when she looks at these pieces, she can smell her mom's cooking – which is kinda special that an image can produce that type of feeling.
Living Proof Creative: How has the social/cultural landscape changed since you started to work on this project?
Dave Ortiz: Well, that's what I'm working on with my series "United Deaths in America". It's really something special and says what I as a Person of Color feel in America.
Living Proof Creative: How do you feel as a Person of Color in America?
Dave Ortiz: It's a tough time right now and I am optimistic that we might get some change, but who knows how much change.
It's not like the racist people who have exposed themselves to the world by putting on the new KKK hood with a red hat are going anywhere. They are still going to be around. It's good that they came into the light and we now know who they are, but it's gonna be awhile before we get the stink off of us as a nation long after I'm gone.
Living Proof Creative: Curatorial politics have lately been a hot topic in the US with the Black Lives Matter movement and artists coming out with stories about their experiences working with galleries and museums. How do you feel about how artists of Puerto Rican descent are represented in NYC galleries & museums?
Dave Ortiz: Right now we are a hot commodity people wanna line themselves up and be on the right side of what's going on. But it's a funny feeling: is it because of "talent", or is it "look I have a black artist" – it's a fine line.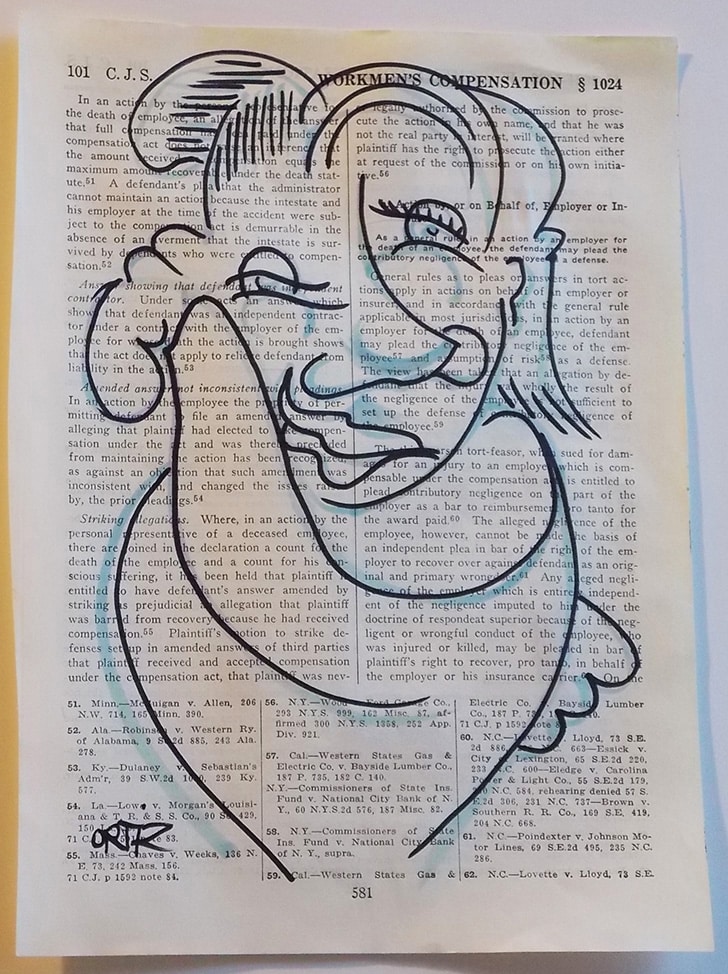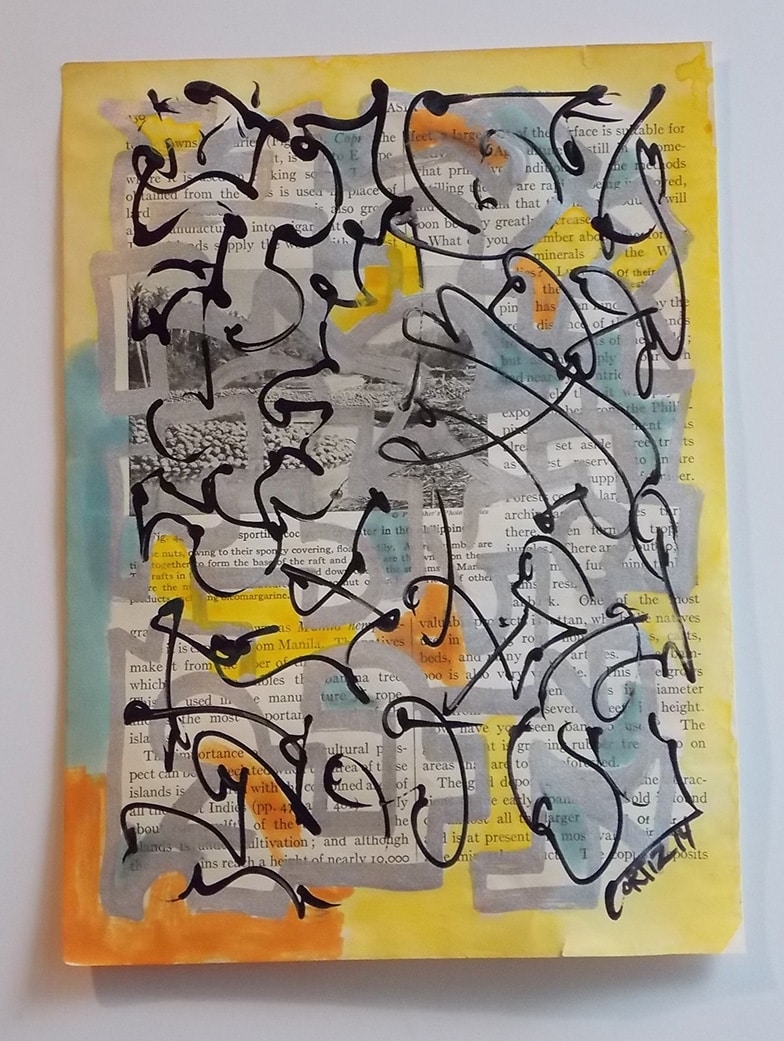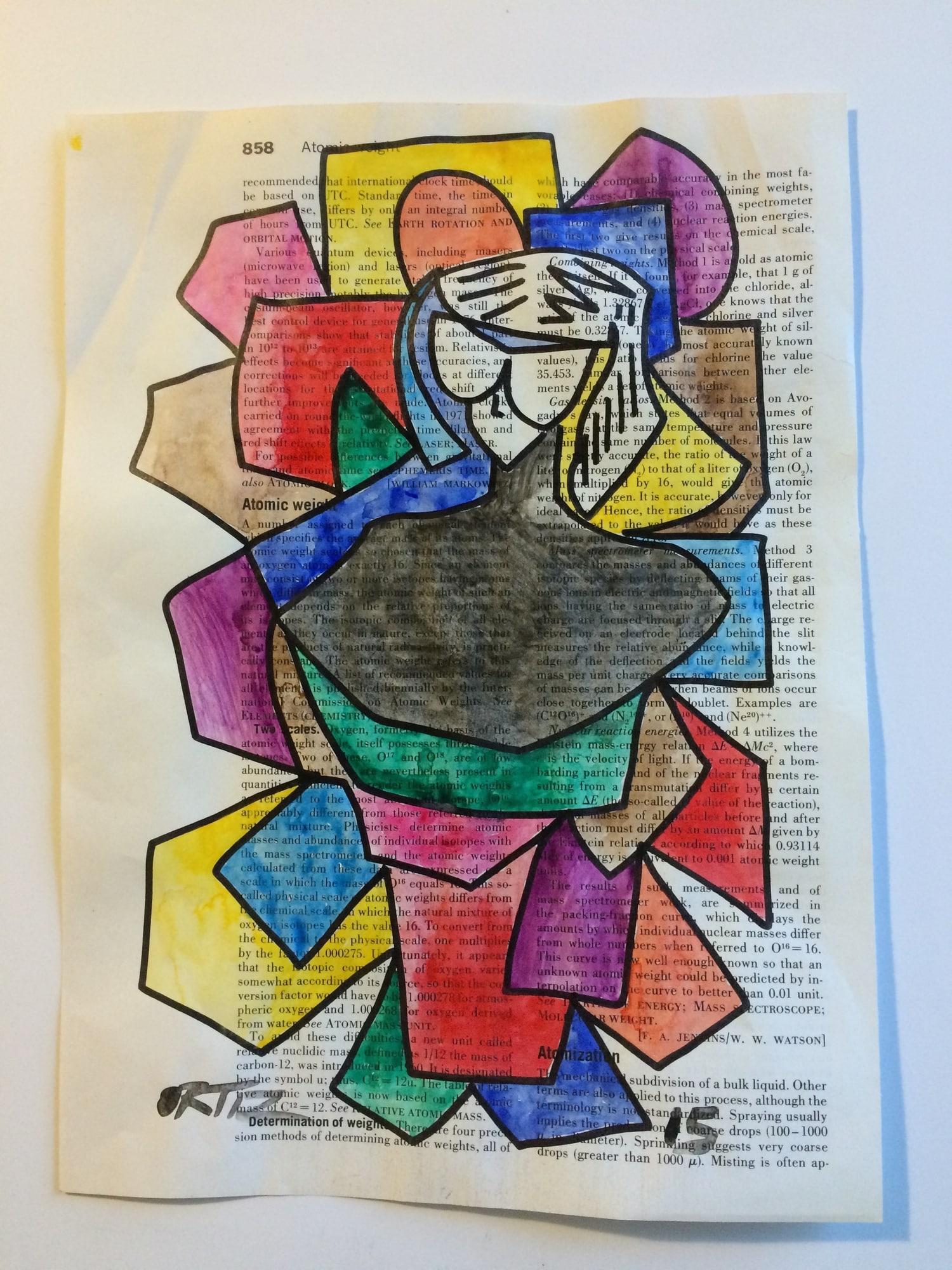 Dave Ortiz, Law Journal Series (2014-2015). Images courtesy of the artist.
Living Proof Creative: You made a name for yourself through graffiti and have only later shifted to other techniques and media. Can you tell me how this shift came about?
Dave Ortiz: I'm like every kid in my neighborhood who grew up in the mid-70s. When this "thing" happened I didn't realize it would become high art. For me, it wasn't anything till the late 80s when I heard talks about graffiti writers doing gallery shows. My first show was in the 90s and it went well. I sold 2 pieces.
Living Proof Creative: What was the first graffiti you did? What was the last one?
Dave Ortiz: My first tag was ZEIN. There was already a guy named ZEN and I wanted that name, but it was one letter too close. When the guy ZEN found out about me, he found me and we had to fight over the name. At first, I tried to talk my way out of it by saying it was a different word, that the "i" was silent and even though it sounds the same it was different. My intellect didn't get me out of it and I got my ass kicked.
I recently took a M3AT tag in a bathroom at a restaurant in 2019, but it was a tiny one. See, here is the thing about graffiti writers: we look for other writers no matter what, so if you can write a tag and it lives on and on, that's the win. It's called a "permie", short for "permanent". So a tiny tag in an obscure spot where you know another writer will see it is what I like to do. Sometimes bigger isn't better.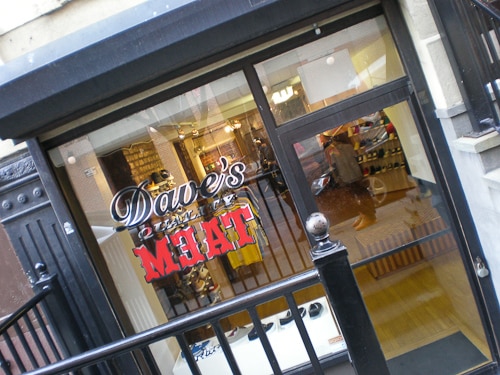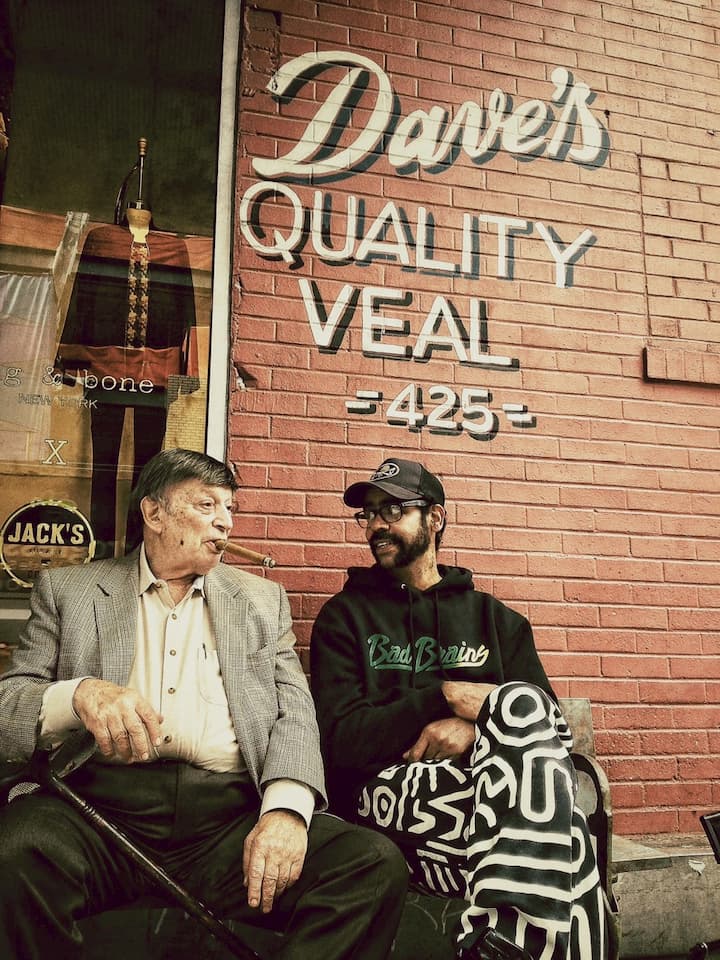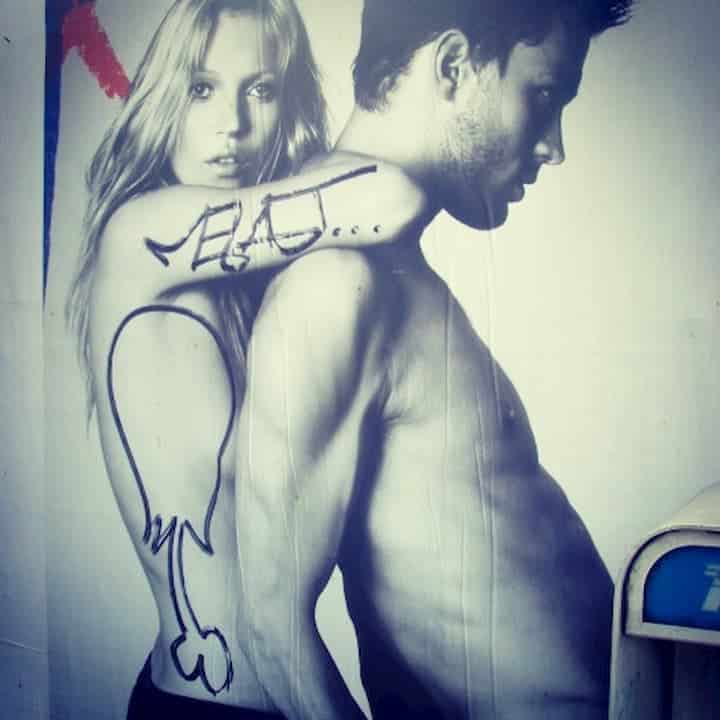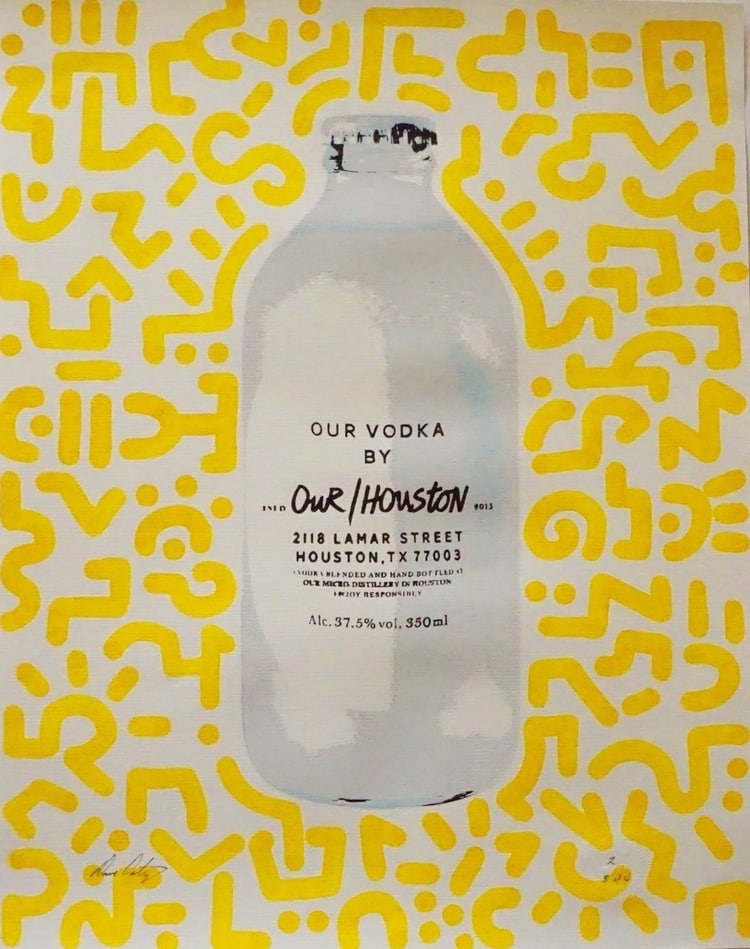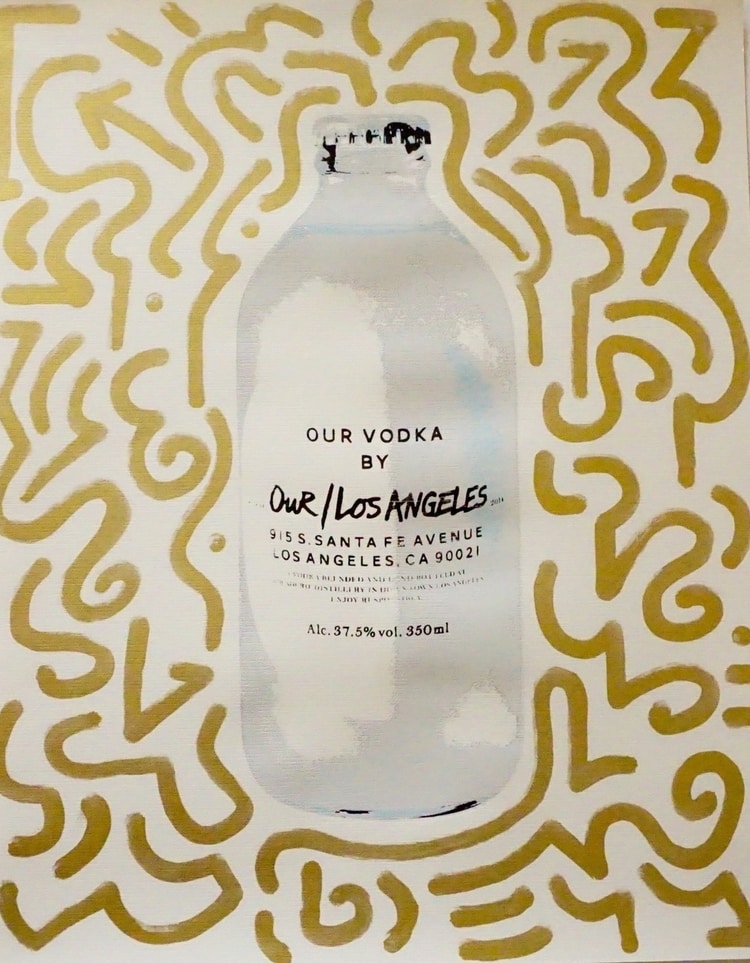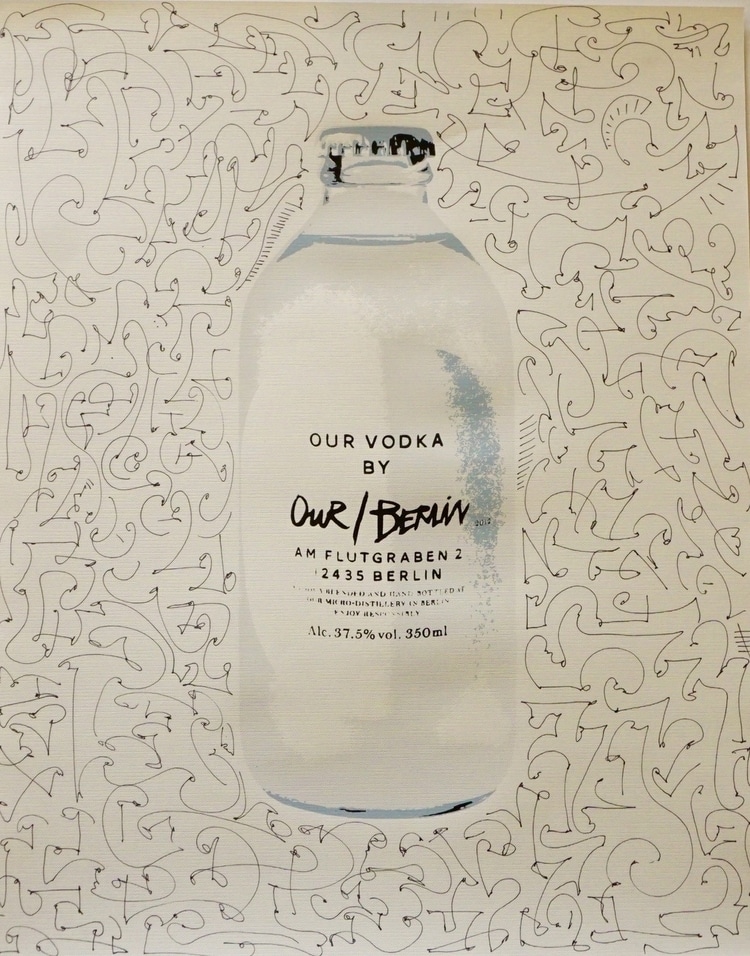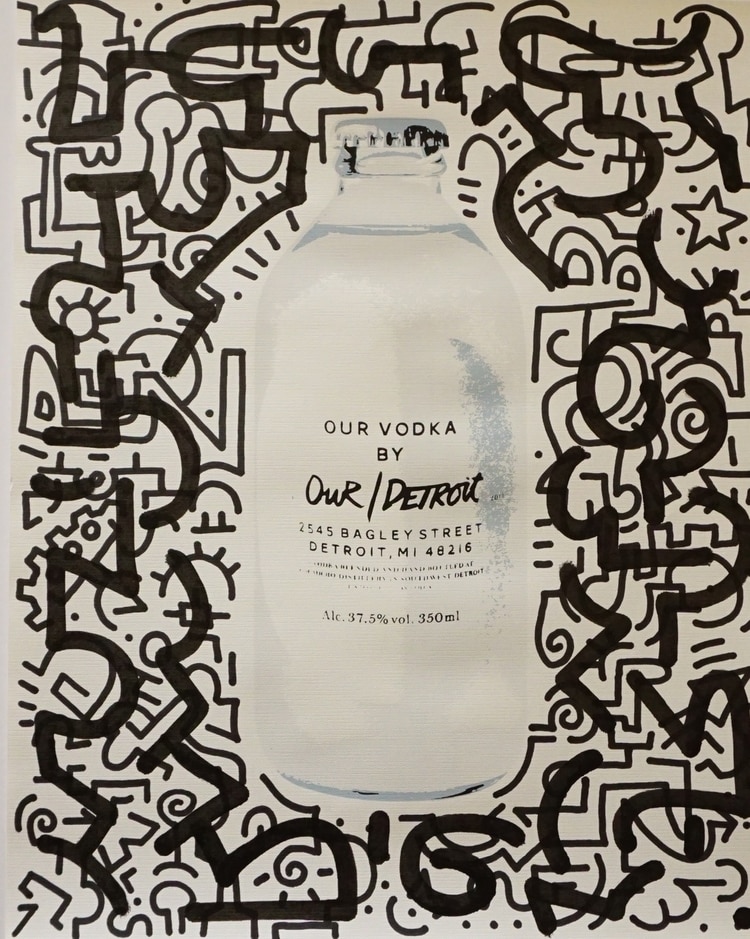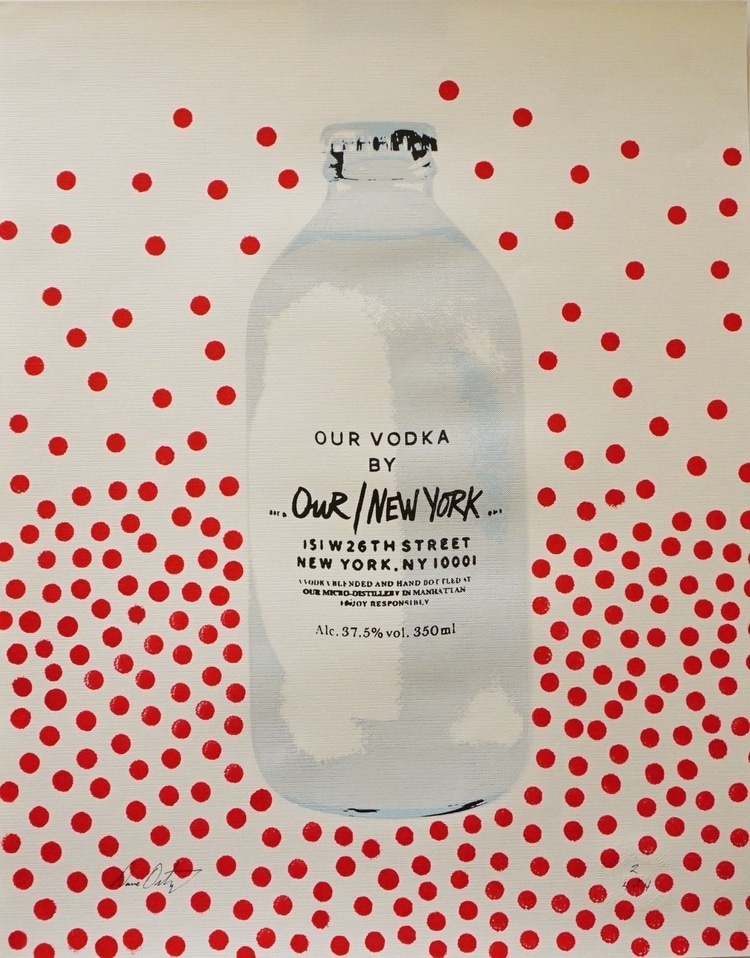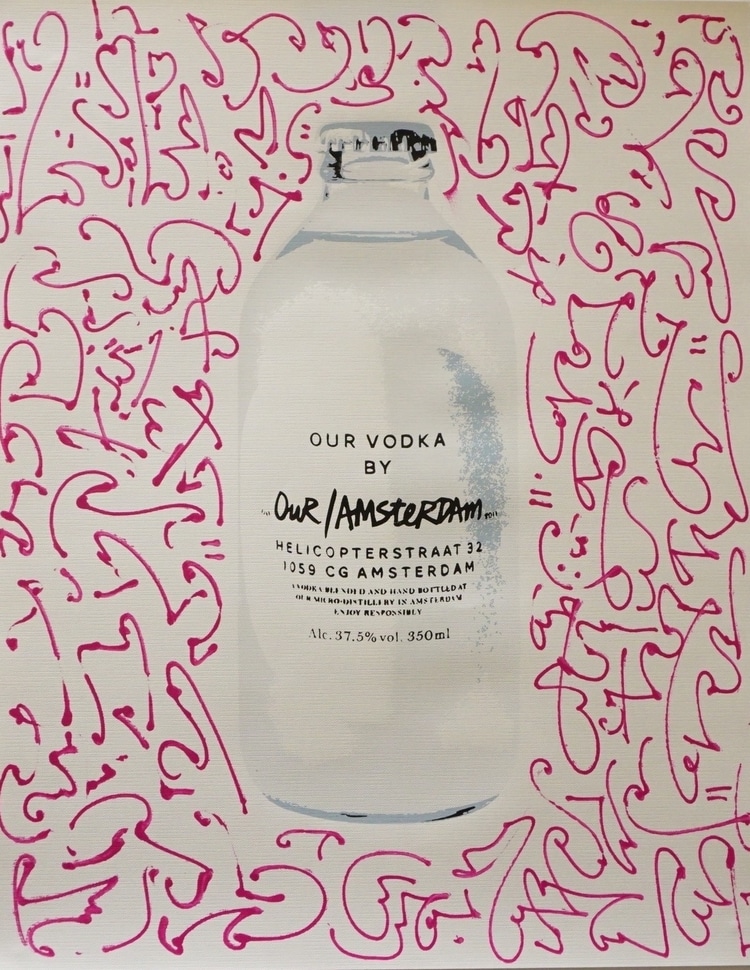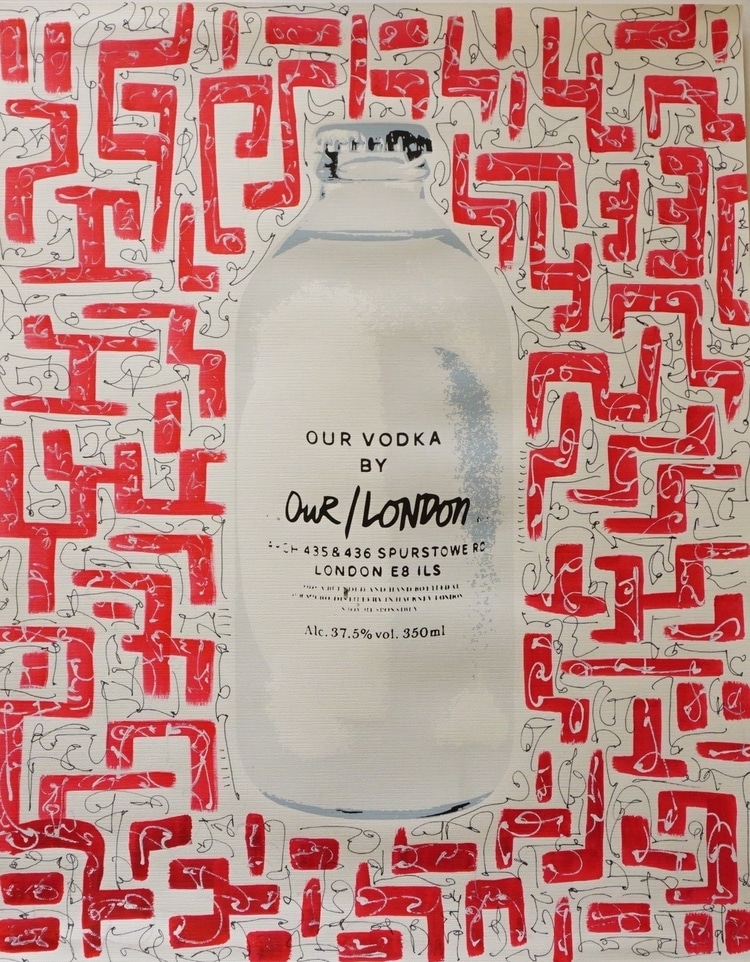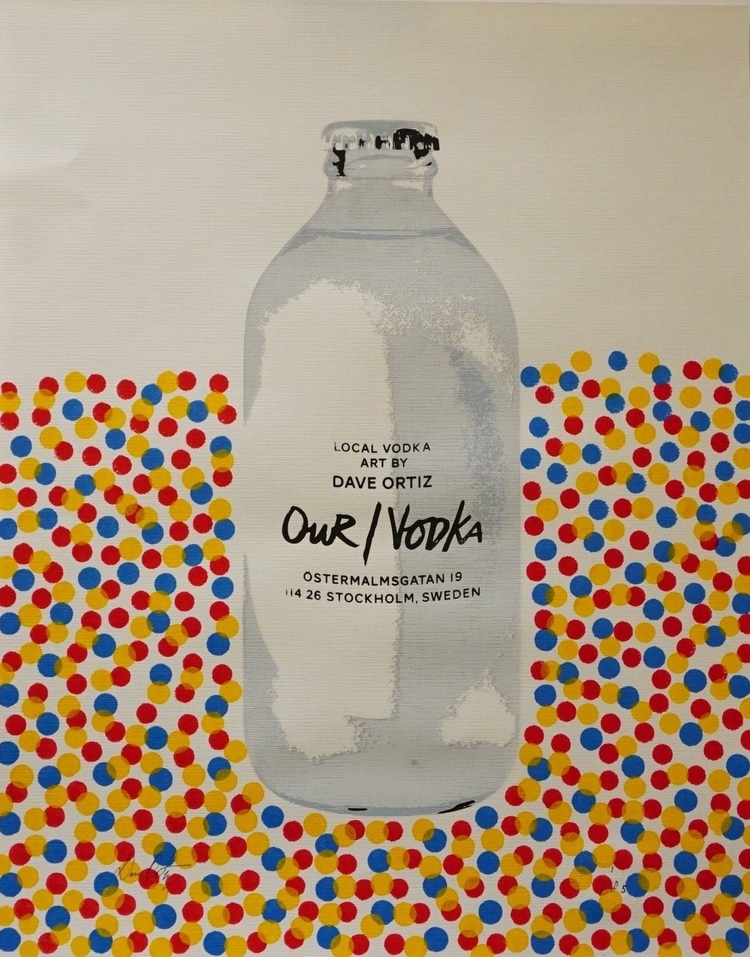 Dave Ortiz, OUR/VODKA SERIES (2016). Images courtesy of the artist.
Living Proof Creative: Looking back to the 80s, 90s, and even early 00s, how do you see the appropriation of graffiti in advertising or product design changed through the years? Can you give us some of your favorite and least favorite examples?
Dave Ortiz: 100% glad you asked….
Ok, back in the 80s guys were doing whole cars (subway cars) and the city hated it, but it was a way for a guy from Brooklyn or the Bronx to have his name ride the entire city and people would take notice.
Now companies wrap subway cars with advertisements and graffiti the subway with bullshit like "Come to the Hamptons", or "Buy my shampoo", "Come see Hamilton" (the play on Broadway). The same thing goes for bus ads you catch my drift. That's corporate bombing.
Living Proof Creative: You had two exhibitions outside of the USA (Cannes & Germany) in 2015 and 2017. How did it feel like to leave NYC/US bubble? How does your work translate outside of the US context?
Dave Ortiz: It was great every time I've done shows abroad. People love it cuz at the end of the day everybody wants a piece of New York
Living Proof Creative: What challenges do you face as an artist?
Dave Ortiz: Art studio game. It's not like in the 80s or early 90s when you could get a space or storefront and make work.
How can an artist survive when the rent is too damn high?! It killed the culture and took away all of the real energy of the city. Artists moved out of NYC. Well, a lot of them did, those who stayed knew what's up and were able to secure spaces, but a lot of us are constantly moving. It sucks.
Living Proof Creative: Who in your community of artists, curators, archivists, organizers, directors, etc. is inspiring you right now? Who should we keep our eye on?
Dave Ortiz: All of the regulars that I roll with – Futura, Stash, Espo, HAZE, CEY, SEEN. Ooh I know, my friend Christian Jacquet, his Instagram is @plasticdust. He makes these tiny little buildings of NYC and I FUCKING LOVE THEM.
Living Proof Creative: What's your proudest Dave Ortiz moment?
Dave Ortiz: Probably Puerto Rican Day Parade, when 80K people saw my Goya Series, but I have to think.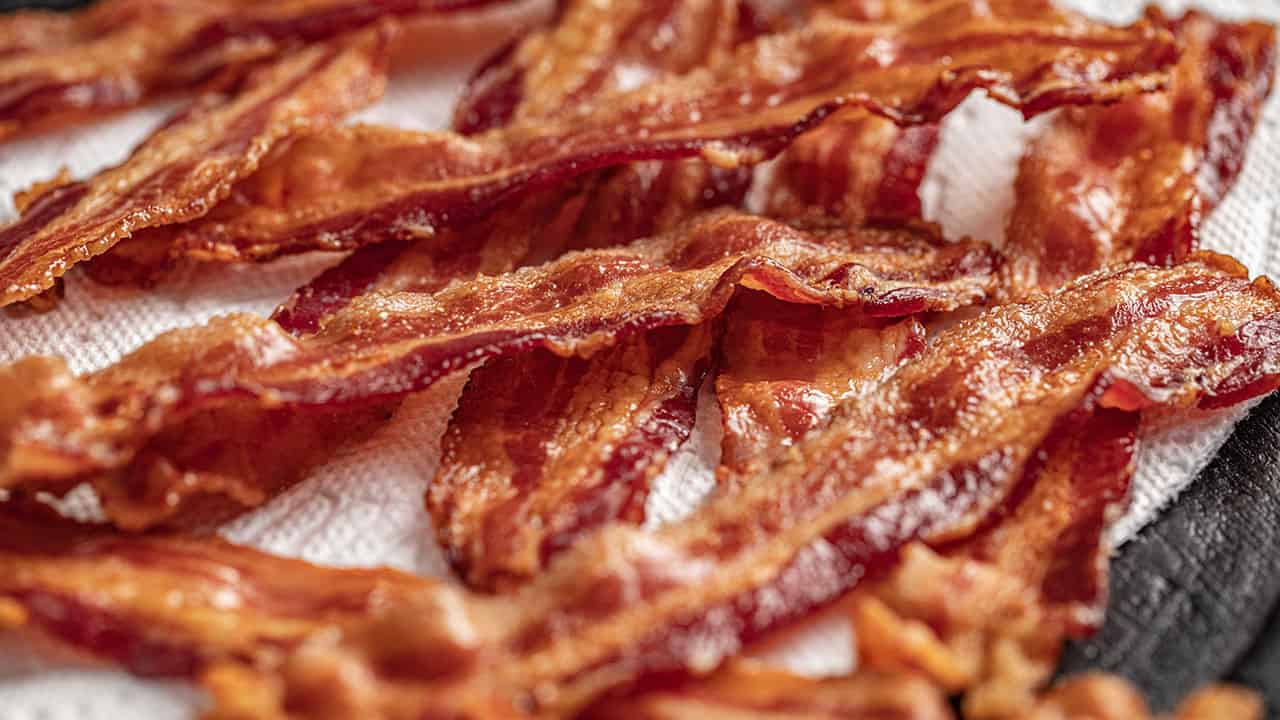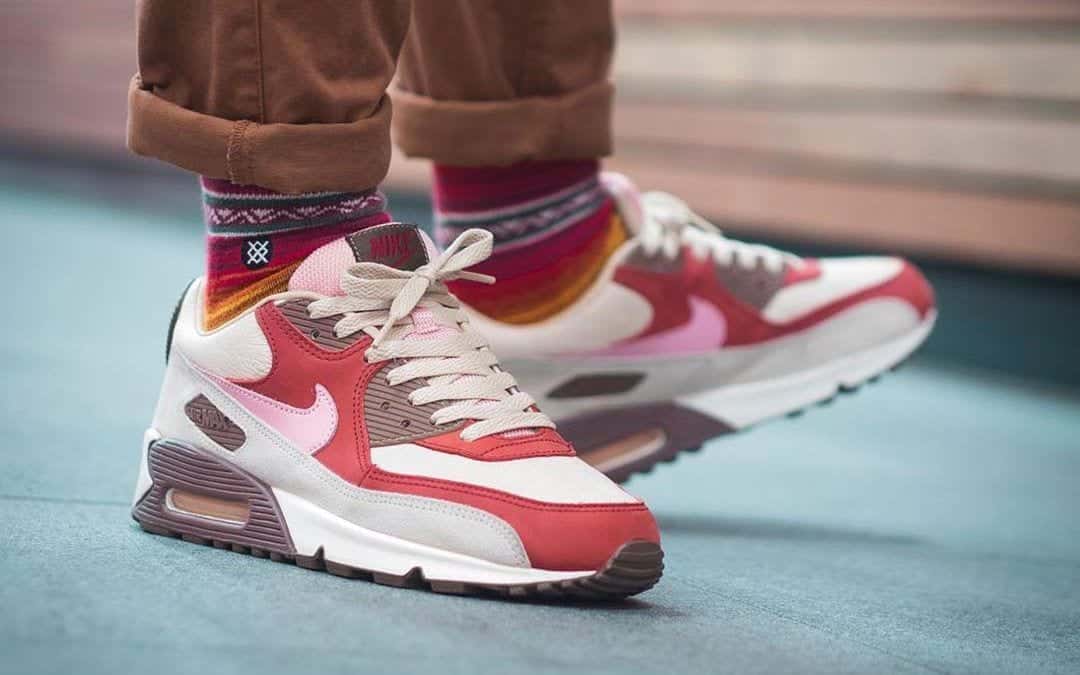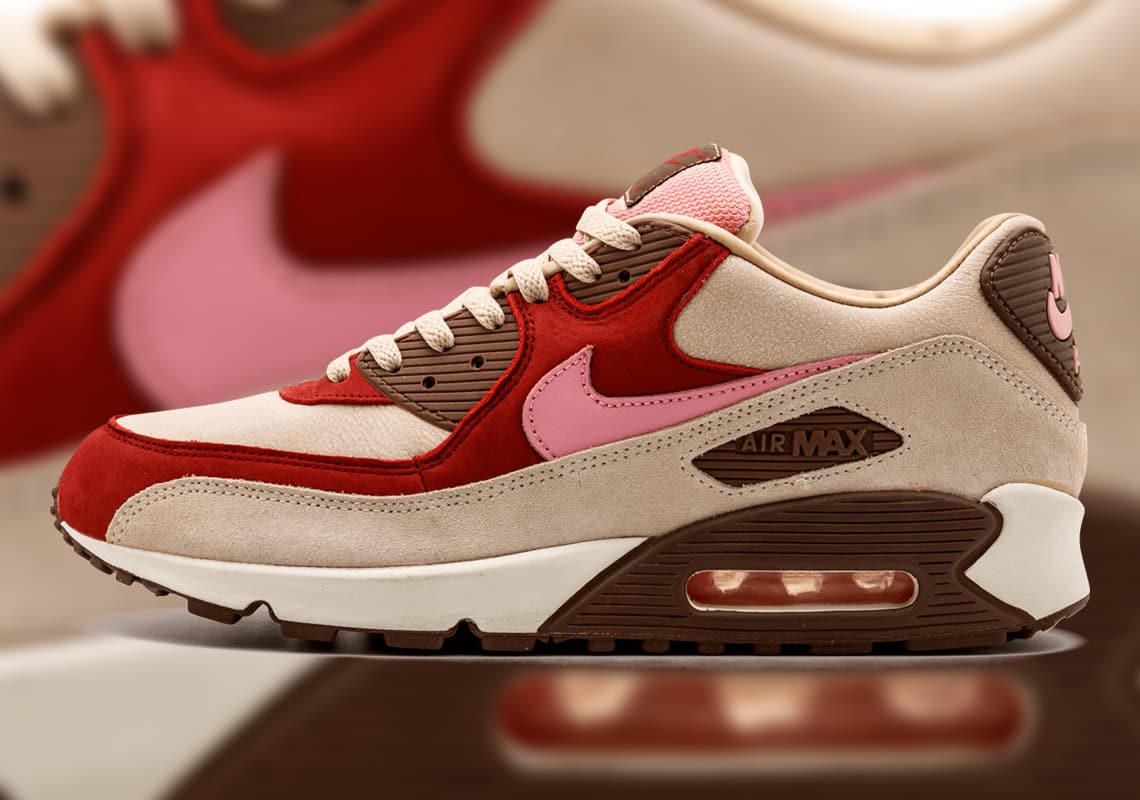 Living Proof Creative: You designed DQM x Nike Air Max 90 Bacon (we're excited about their comeback release this year!), but you also did some work for Adidas, Vans, Converse, New Balance, and more. What was the pair of sneakers you designed and are especially proud of but didn't get the hype they deserve?
Dave Ortiz: DQM x Converse project Red. Hands down, that design is so good and there is so much being said on that sneaker it was way too conceptual that some folks didn't get it.
Living Proof Creative: Now I'm curious to hear more about this!
Dave Ortiz: Well, I was one of the first 100 artists to do this project and they asked me to make a Chuck Taylor. The first thing I did was make the shoe blue leather (I was on an Elvis kick that day), then I cut the shoe down to lace holes making it a mid-top. Then I thought about the project and said since this is about AIDS in Africa and I wanted to use the earliest form of language I chose 3 hieroglyphics.
One was an Ankh, the other was the symbol of blood, and the last was the symbol of protection of Illness and disease. This was on the outer part of the heel of the sneaker. Then there was a lace tie on the front of the sneaker that said "CURE ALL" then on the inside of the footbed of the sneaker there was a repeat pattern that said "WHAT WOULD YOU GIVE UP FOR A CURE". The shoe has a clear bottom and looks like it was sliced by a meat cutter and you could see Meat flesh.
It was a cluster of informational ways to conceptualize but still my favorite sneaker.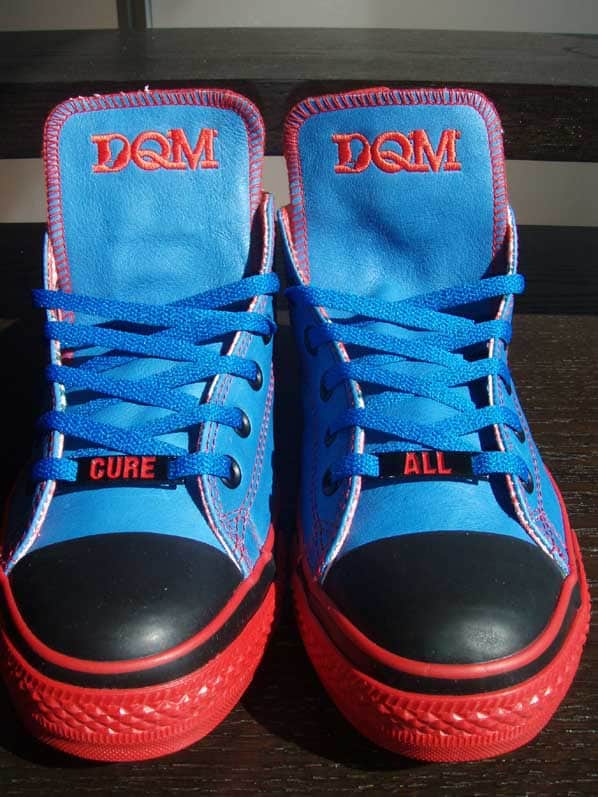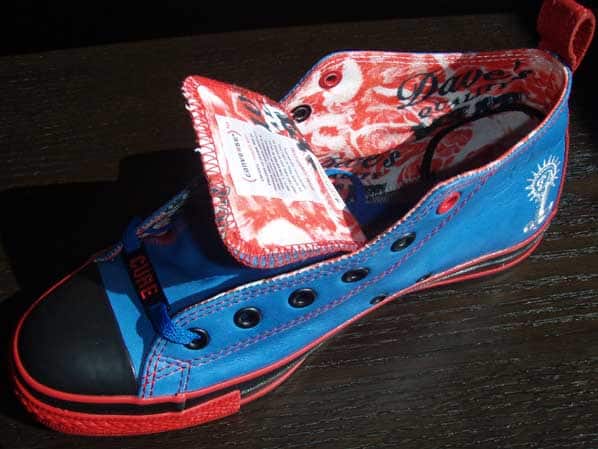 Living Proof Creative: If you were to drop a pair today, which model would you go for and why?
Dave Ortiz: Nike ACG. For me, the ACG ("all conditions gear") collection was always a nerdy cool collection made. I like stuff that is functional and tech, that's why.
Living Proof Creative: What are you wearing nowadays?
Dave Ortiz: I went back to the sneaker I grew up wearing, Pro-Keds "Royal". I've been looking for a pair of Pro-Keds "69ers", and my number two shoe would absolutely be Nike Humara.
Living Proof Creative: What colorway?
Dave Ortiz: They're a camo colorway. It was first released in Japan and then here in the States. I love CAMO, I'm a kook when it comes to camouflage.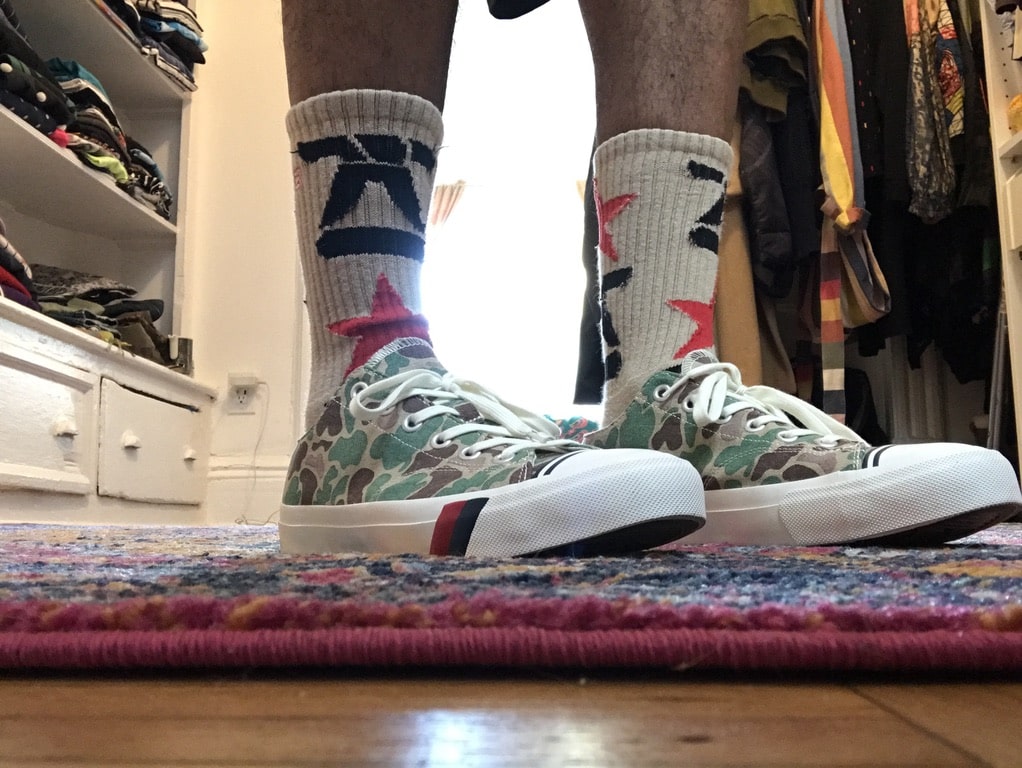 Living Proof Creative: You started a bike brand ANOTHERWHIP and were the owner of Dave's Wearhouse bike and skate shop in Little Italy. What do you ride nowadays?
Dave Ortiz: Street Bike, I love it!
Living Proof Creative: What's your advice for the other creatives who are looking to start their own projects?
Dave Ortiz: If you have an idea – do it. See, here's the deal: we are all being inspired with the same information all at the same time. We scroll through images on a daily basis and ideas form in our heads. So with that being said, for every great idea you have, there are 5 people who have a very similar idea. It's a matter of who gets that idea out and who executes it better.